Are you looking for a new sense of adventure in your life? See these reasons for why you should try the Peru adventure tours in Cusco.
The science is in! Recent studies have shown that travel is the secret to happiness. Spending money on experiences brings you more lasting happiness than spending money on material things.
Peru has become a top travel destination in recent years. The reasons are endless: from the ancient ruins of Machu Picchu to the world-renowned cuisine of Lima, the country boasts impressive and diverse culture that you won't find anywhere else in the world.
Peru has won multiple awards as a leading cultural and culinary destination. The national tourism board has also been recognized as one of the best in the world.
So what are you waiting for?
Here are 7 reasons why you should try Peru Adventure Tours.
1. Guided Hikes; There are many breathtaking trails that are renowned in Peru that you will not want to miss out on. From the classic Inca trail to the stunning Ausangate trail, each trek provides different difficulty levels and sights.
Peru adventure tours specialize in taking care of all the details of your hike so you have nothing to worry about. From transportation to meals and tents, the adventure tour will make sure you are comfortable and enjoying your adventure.
Not only that, adventure tours provide professional bilingual tour guides and assistants so that you won't miss out on a thing. These tour guides are knowledgeable and experienced, so you can rest assured that you are in capable hands.
2. Machu Picchu; You can't visit Peru without visiting one of the New Seven Wonders of the Modern World.
Machu Picchu was declared a Peruvian Historical Sanctuary in 1981 and then a UNESCO World Heritage Site in 1983. The Incas call Machu Picchu "old mountain" or "old peak" and have been a place of mystery and intrigue for archaeologists and explorers for hundreds of years.
Peru adventure tours always provide several options for you to explore Machu Picchu in a way that suits your preferences.
You can do a multiple day hike to Machu Picchu or opt to travel to Machu Picchu via buses and trains. Once there, there are several different options for you to tour the beautiful Inca ruins.
There are some times in the year that experts agree are better to visit Machu Picchu than others. It is wise to consult these comprehensive month-to-month comparisons to see when is the best time for you to plan your trip.
3. Exciting Activities with Peru Adventure ToursZip lining, tree climbing, and white water river rafting are just some of the exciting activities you can do during your trip to Peru.
Peru adventure tours provide all the equipment, safety gear, and supervision to make sure that you stay safe while having a great time. The zip lining activity allows you to fly at 60 miles per hour across mountains and valleys.
This adventure is one of a kind and full of adrenaline!
Whitewater river rafting is an exciting adventure where you will raft down a fast-paced river in protective rafting gear. The scenery and sights are spectacular as you work together with your other boat mates to navigate down the river.
4. Thoughtful and Detailed Itineraries; Peru adventure tours put together well thought out and detailed itineraries to ensure that you are getting the most out of your Peru trip.
These itineraries are put together by experienced and knowledgeable locals who know exactly where to take you to make sure you get the full Peru experience. Itineraries are always a good balance between adventure and comfort, ensuring that you are not too exhausted by the end of the day.
Often times itineraries start as soon as you get off the plane, and do not end until you are safely back at the airport. Having an expert take care of all of the details ensures that you can solely focus your attention on enjoying yourself!
5. The Food Like Peru's culture, the cuisine varies greatly by region, offering an exciting variety of experiences. Booking an adventure tour allows you to have the opportunity to try all the different regional cuisines.
Your professional tour guide will no doubt make sure you try Peru's national dish, fresh ceviche or catch and cook your own piranha in the Amazon. They will also be happy to point out any local specialties no matter which part of Peru you are visiting.
Want to sample the most Peruvian food in a short amount of time? Then you won't want to miss Mistura, South America's largest food festival. The festival is held in Lima every September. Chefs from every inch of Peru set up booths for a week, offering just a couple of their most impressive dishes. Daily cooking demonstrations round it out to be any foodie's culinary dream.
The festival is held in Lima every September. Chefs from every inch of Peru set up booths for a week, offering just a couple of their most impressive dishes. Daily cooking demonstrations round it out to be any foodie's culinary dream.
6. City Tours; When most people think of Peru, they think of the beautiful historical ruins and breathtaking scenery. Don't forget that the incredible cities of Lima and Cusco also offer a variety of different city experiences as well.
Lima is a densely populated metropolis, a coastal capital that has all the modern amenities of a 21st-century city. Cusco has some of the most beautiful Catholic churches in town such as the Santo Domingo temple or Qorikancha.
These are all options for you to see and experience when you travel with Peru adventure tours.
7. Alpaca! For all the animal lovers out there, Peru is one of the few places in the world where you will get to see Alpaca.
The alpaca species originated in Peru, and they mostly populate in the high mountain foothills of the Andes Mountains. In Peru, you will be able to see these animals and have the opportunity to interact with them as well.
Ready to plan your big trip to Peru?
It's rare to find a destination where you can go from a bustling city setting to being lost in the jungle in a matter of hours. But Peru does just that. Peru is a country where its wildlife is as colorful and vibrant as its cities and culture.
Peru has the ability to reconnect us with nature while still providing modern conveniences and luxury comforts. Ancient traditions dating back centuries are not lost but are celebrated, and made accessible through modern technologies.
​
Book your trip through Peru adventure tours to make sure you don't miss a thing.
Check us out for more information and to help plan your next big adventure!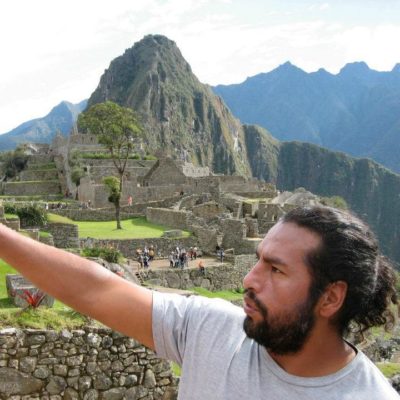 Miguel is a professional tour guide from Cusco, Peru, with almost 20 years of experience leading tours and a deep knowledge of Peru's cultural and ecological diversity. He is also an advocate of ecotourism and cultural sensitivity and has lectured on these topics in the US and Europe. He co-founded Evolution Treks Peru, a worker-owned travel company based in Cusco.