Bad News: Inca Trail permits are all sold out.  
Good News: There are plenty of trekking options available to you but only one of them can get close to matching the Inca trail.
Rules for the Inca Trail changed when  permits for 2018 went on sale last October, three months earlier than previous years. As a result, the permits were sold at an exponential rate. And as of today, there are no permits left for May, June, July, and August; a true record compared to recent years. 
While there are many other trails available to hikers and adventurers alike, I do have to warn you that they all share one common    trait – CHAOS.   The swarm of tourists that did not manage to book a spot on the Inca Trail tend to opt for alternative treks that offer all the amenities that they can get at home like campsites with hot showers, electricity, Wi-Fi and loud music.  
The whole point of coming to Machu Picchu is to become one with nature and camping in the great outdoors with the bare necessities gives you the possibility to disconnect from the real world. Isn't that the point of your trip? 
If your true purpose is to nurture your soul,  then we highly recommend this "off the beaten path" trek called Ancascocha Trail. It remains unexplored and in our opinion, underrated. It's the extreme opposite of the alternative trails mentioned above. 
If being immersed in natural beauty intrigues you then you will not be disappointed. You will be among the lucky few who can revel in  the pristine almost untouched natural areas and the most breathtaking views of the snowcapped mountains and glaciers, including the massive Salkantay Mountain towering over glacier-carved valleys.  This    trekking destination   is   a   MUST, only second  to the magnificent Inca trail. It's not in vain  that it was  named by  National Geographic  as one of the 20 best hiking trails on Earth in 2017 – a    title righteously owned for bearing some of the world's most scenic views. 
Only a few native Quechan people inhabit these enchanting grasslands; most of them llama herders who use original Incan trails to get to the nearby towns to obtain what they cannot grow in their highlands. The relatively lesser-known status of this mesmerizing place has kept the balance of life almost intact, which is something that is being chipped away in places like Salkantay. Andean foxes and dwarfed deer can be spotted drinking water in the turquoise-hued   lakes while Condors and many other exotic birds   soar   over this    vast   range.  
Furthermore, the Ancascocha trek has different access points and outlets; one of its trail variations ends up going down the Huayllabamba River which is part of the classic Inca Trail to Machu Picchu. Unlike the Lares or Salkantay trek, this 'off the beaten path' trek allows for exploration of nearby Incan ruins. This  insight  provides hikers   with   the  opportunity to engage with the historical background   in    preparation to visit Machu Picchu.  
Sometimes, the best things in life are closer than we think. This is the case of the Ancascocha trek, which is located right within the buffer zone of the National Sanctuary of Machu Picchu but perhaps shadowed by the fame of the Salkantay trek. It   has remained barely explored by trekkers and tour companies alike  making it truly a must-see trek.  
This trekking route can be done almost year-round except during the rainy season, which is from December until the end of March. Despite the challenging nature of the trail, which makes it appealing to many, is the fact that one can cover the hardest parts of this trail on horseback.   That's a game-changer  right there, turning   it into an utterly doable hike for any person in decent physical condition, adequately acclimatized. Anyone who has the desire and passion to   unknown yet fabulous destinations will discover what it truly means to be surrounded by natural beauty and if nourishing your mind, body and soul is something you seek,   book the trail.  I promise it will change your life.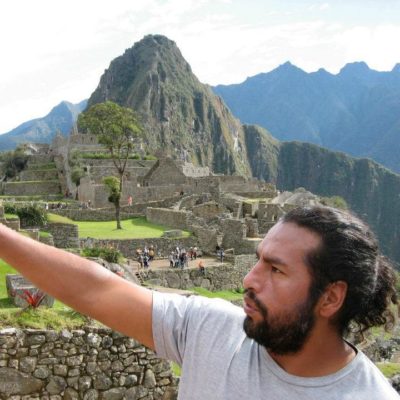 Miguel is a professional tour guide from Cusco, Peru, with almost 20 years of experience leading tours and a deep knowledge of Peru's cultural and ecological diversity. He is also an advocate of ecotourism and cultural sensitivity and has lectured on these topics in the US and Europe. He co-founded Evolution Treks Peru, a worker-owned travel company based in Cusco.