If you're looking for an unforgettable off-road adventure in the Andes, look no further than the ultimate quad bike in Cusco adventure. From exploring ancient ruins to taking in spectacular views and learning about local culture and history, quad biking is the perfect way to experience this beautiful region. The Ultimate Quad Bike in Cusco Adventure
With professional instruction from experienced guides, you can choose your path as you take on some of the most incredible landscapes Peru offers. Enjoy all these amazing sights while feeling safe with our top-notch safety measures so that you can have fun without any worries. So come join us for a unique journey through Cusco on one of our thrilling Quad Bike tours.
Explore Cusco's Ancient Ruins on a Quad Bike
Explore Cusco's ancient ruins on a quad bike and experience the beauty of Peru like never before. Get professional instruction from experienced guides who will ensure you have a safe and fun adventure.
Choose your route, taking in spectacular views as you go, or follow our expert-led tours for an even more immersive experience. Learn about local culture and history as you explore some of the most famous sites in the region, such as Sacsayhuaman, Ollantaytambo, Pisac, and Chinchero.
Atv Tours in The Sacred Valley offers incredible opportunities to take in the breathtaking scenery while learning about Incan culture and customs. From Maras Moray to Rainbow Mountain, there are countless routes that allow travelers to get off the beaten path while getting up close to nature's wonders.
With professional instructors leading each tour, riders can be sure they are receiving top-notch safety guidance throughout their journey.
Atv tours in Cusco provide an exciting way to explore the area's many archaeological sites including Sacsayhuaman Fortress, Tambomachay Temple Complex, and Qenko Amphitheater – all of which offer unique insight into Incan civilization.
Professional guides will explain each site's significance during stops along the way so that visitors can better understand this remarkable period of Peruvian history. Whether it's riding through lush valleys or scaling steep mountainsides, ATVing is an exhilarating way to discover Cusco.
For those looking for an unforgettable adventure at Rainbow Mountain – one of Peru's natural gems – Atv Tours makes it easy to access this stunning location without having to hike long distances over rugged terrain on foot.
Experienced guides will lead riders across challenging trails where they can take in sweeping vistas from atop their vehicles before descending back down into the valley below where otherworldly rock formations await exploration.
Finally, no visit would be complete without experiencing Maras Moray – two fascinating archaeological sites high up in Peru's Sacred Valley surrounded by beautiful mountain ranges.
On Atv Tours here, visitors can learn about salt production techniques used by locals since pre-Incan times while exploring these impressive ruins, which date back thousands of years ago.
No matter what type of traveler you are – thrill seeker or history buff – there is something for everyone when it comes to exploring Cusco's ancient ruins on a quad bike.
So don't wait any longer; book your tour today for an unforgettable experience filled with thrilling rides amidst majestic landscapes combined with informative cultural lessons along the way.
Exploring Cusco's ancient ruins on a quad bike is an unforgettable experience that will stay with you long after your journey has ended. Now, let's learn about this incredible city's local culture and history.
Learn About Local Culture and History
Cusco is a city steeped in antiquity, boasting an abundance of cultural heritage. On an ATV tour, you can explore the ancient ruins and learn about its past. From the Inca Trail to Machu Picchu, plenty of sites will give you a deeper understanding of Cusco's history and culture.
You'll be able to visit important archaeological sites like Sacsayhuaman, Ollantaytambo, Puka-Pukara, Qenko, and more.
The experience begins with professional instruction on safely operating your quad bike before setting off into the countryside. Your guide will provide interesting facts about each site along the way and explain their historical significance.
This is also a great opportunity for photographers looking for amazing shots – from sweeping views of the valley below to close-ups of intricate carvings in stone walls – there's something for everyone.
Whether you prefer a leisurely ride or an adrenaline-pumping journey, ATV tours in Cusco have something for everyone. There are many different ATV tours available in Cusco including those that take you through The Sacred Valley or even Rainbow Mountain which offers spectacular views from high altitudes above 4500 meters (14800 ft).
Other popular routes include Maras Moray where visitors can explore unique salt pans built by pre-Inca civilizations thousands of years ago or simply enjoy some off-roading fun while surrounded by stunning mountain scenery.
No matter what type of ATV tour you choose in Cusco, safety is always paramount; all riders must wear protective gear such as helmets and gloves provided by the tour company prior to departure.
Experienced guides accompany every group so they can provide assistance if needed while ensuring everyone has a safe but enjoyable time out on their quad bikes exploring this incredible region filled with culture and history waiting just around every corner.
Gaining a deeper understanding of Cusco's culture and past can be accomplished by delving into the region's colorful history. Next, take in spectacular views as you explore the area on a quad bike.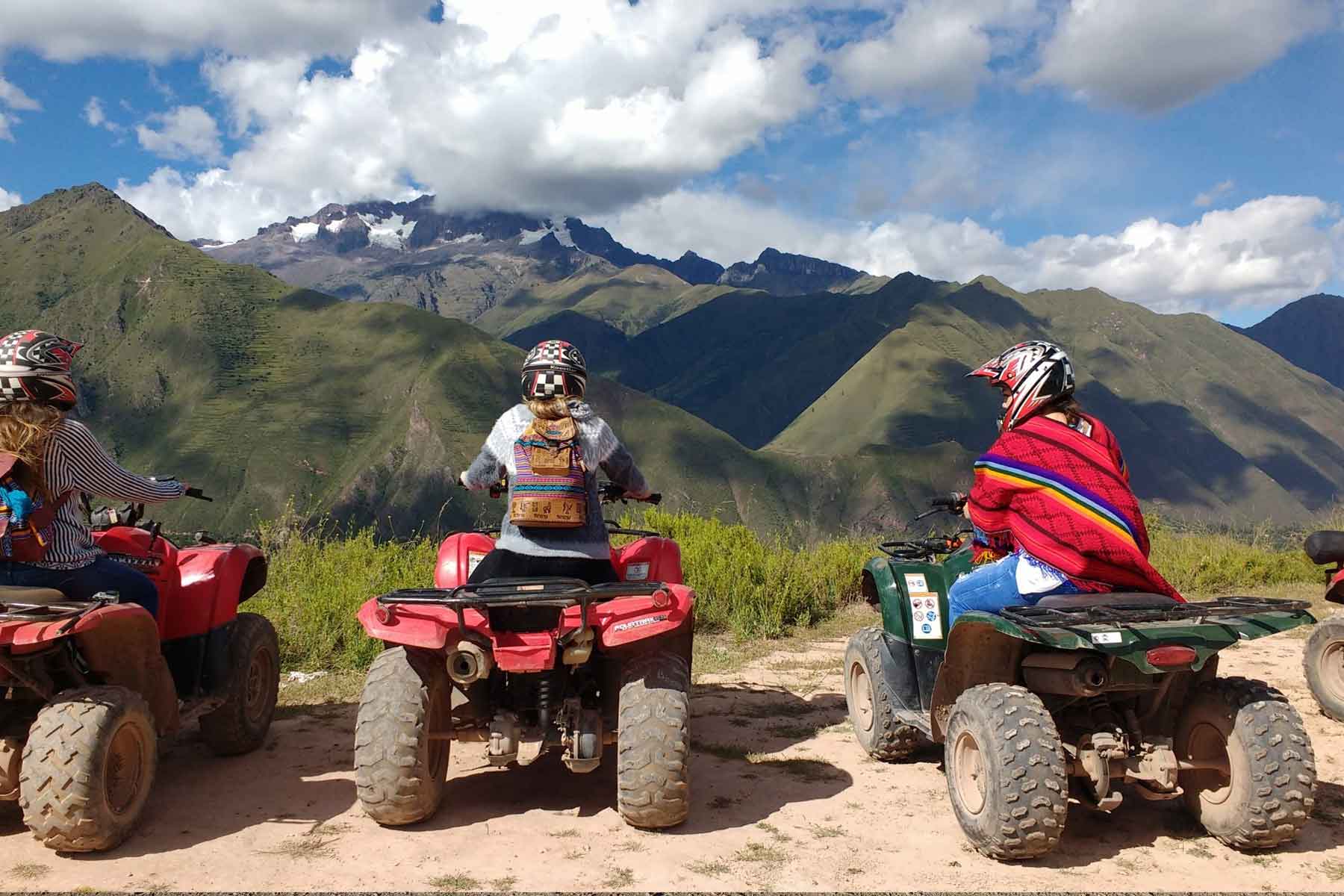 Take in Spectacular Views
Exploring the Sacred Valley of Peru by quad biking offers a remarkable opportunity to take in breathtaking vistas. Whether you're a thrill seeker or simply looking for a unique way to explore, this adventure has something for everyone.
The Sacred Valley extends from Cusco to Machu Picchu, displaying incredible views of snowy peaks, stepped fields, and verdant valleys. The terrain is ideal for ATV tours with its winding trails and open roads. For those with limited time or energy, half-day trips are available to explore the Sacred Valley's winding trails and open roads.
Gaze in wonder as you traverse the trails, for here, you may catch a glimpse of llamas, alpacas, vicunas, condors, and even pumas. As you take in the stunning scenery, time may seem to slip away. Along the way, your guide will point out interesting sites like Incan ruins or archaeological remains, which provide insight into Peru's ancient culture and history.
At certain points during your journey there are stops where riders can rest their legs while admiring stunning panoramic views across the valley below them. These moments are perfect opportunities for taking photos or just soaking up the tranquility of being surrounded by untouched landscapes – making it one unforgettable experience.
If you're looking for an exciting way to explore Peru, then why not try ATV tours in the Sacred Valley? It's guaranteed to give travelers a unique perspective they won't soon forget.
There are plenty more activities available such as horseback riding through nearby villages or zip lining over rivers, so no matter what kind of traveler you are there's something here that will suit every taste.
You can take in some truly breathtaking views from the top of a quad bike. Now it's time to get professional instruction on safely navigating your way through Cusco and its surrounding areas.
Get Professional Instruction
At ATV Tours Cusco, we understand the importance of professional instruction for your safety and enjoyment. Our guides boast a wealth of expertise in the Cusco region, from its landscape to its culture and history.
Our guides will ensure that you are well-equipped to take full advantage of your journey by providing clear and comprehensive guidance on quad bike riding.
Our guides are also knowledgeable about all the sights along our routes, including ancient ruins like Sacsayhuaman, Maras Moray, Ollantaytambo, Pisac Pueblo, and more. We'll give you an overview of each location's history so that you can appreciate their significance while taking in spectacular views from atop a quad bike.
You'll also be able to choose which route best suits your needs – exploring the Sacred Valley or tackling Rainbow Mountain. Our guides will be on hand to ensure your safety while you explore the Sacred Valley or take on Rainbow Mountain, equipped with top-notch gear and helmets for added protection.
We use only high-quality equipment so riders feel comfortable during their journey; helmets are always mandatory for added protection against any potential accidents or mishaps.
ATV Tours Cusco strives to ensure everyone has fun while staying safe during our tours. With us, riders don't need prior experience – just enthusiasm. You'll learn quickly under our guidance and, soon enough, be confidently navigating trails with ease alongside other adventurous travelers looking for new experiences in Cusco's beautiful landscape. So what are you waiting for? Book an ATV Tour today with us here at ATV Tours Cusco – we guarantee it won't disappoint
By getting professional instruction, you can make sure that your quad bike experience in Cusco is safe and enjoyable. Now it's time to choose your adventure with the freedom of a quad bike tour.
Choose Your Adventure
When exploring Cusco's ancient ruins on a quad bike, the possibilities are endless. With different routes available for all levels of experience and skill, you can choose your own adventure. For the more seasoned explorer, there are a variety of routes to choose from.
For those looking to take in some spectacular views, ATV tours in the Sacred Valley offer breathtaking panoramas of the Andes Mountains and surrounding countryside. Guides versed in local lore will accompany you on a tour of the Sacred Valley, where they'll share insights into culture and history and reveal some remarkable archaeological sites.
If you're feeling adventurous, why not try ATVing on Rainbow Mountain? This challenging route takes riders up steep inclines through beautiful landscapes before reaching one of Peru's most famous natural wonders – The ausangate mountain range with its colorful hillsides.
Another popular option is ATVing in Maras Moray which offers incredible views over Salinas de Maras salt pans as well as opportunities to explore Inca terraces and agricultural systems used by locals centuries ago. The trails here are relatively easy but still provide plenty of thrills.
For those wanting a more leisurely ride, there are also guided ATV tours in Cusco city itself, where you can enjoy stunning vistas while learning about colonial architecture and traditional customs from your guide. Plus, all rides come with professional instruction, so even novice riders can feel confident tackling these exciting trails safely under expert supervision.
So whether you want an adrenaline-filled day full of excitement or a relaxing tour taking in some amazing sights, choose your adventure when exploring Cusco on an ATV. With different routes available for all levels of experience and skill, and professional instruction included for safety and assurance, there is something for everyone.
Closing sentence: Exploring the Sacred Valley of Cusco on a quad bike is an adventure that will provide memories to last a lifetime. Transition sentence: Now, let's look at some of the ATV tours available in this incredible region.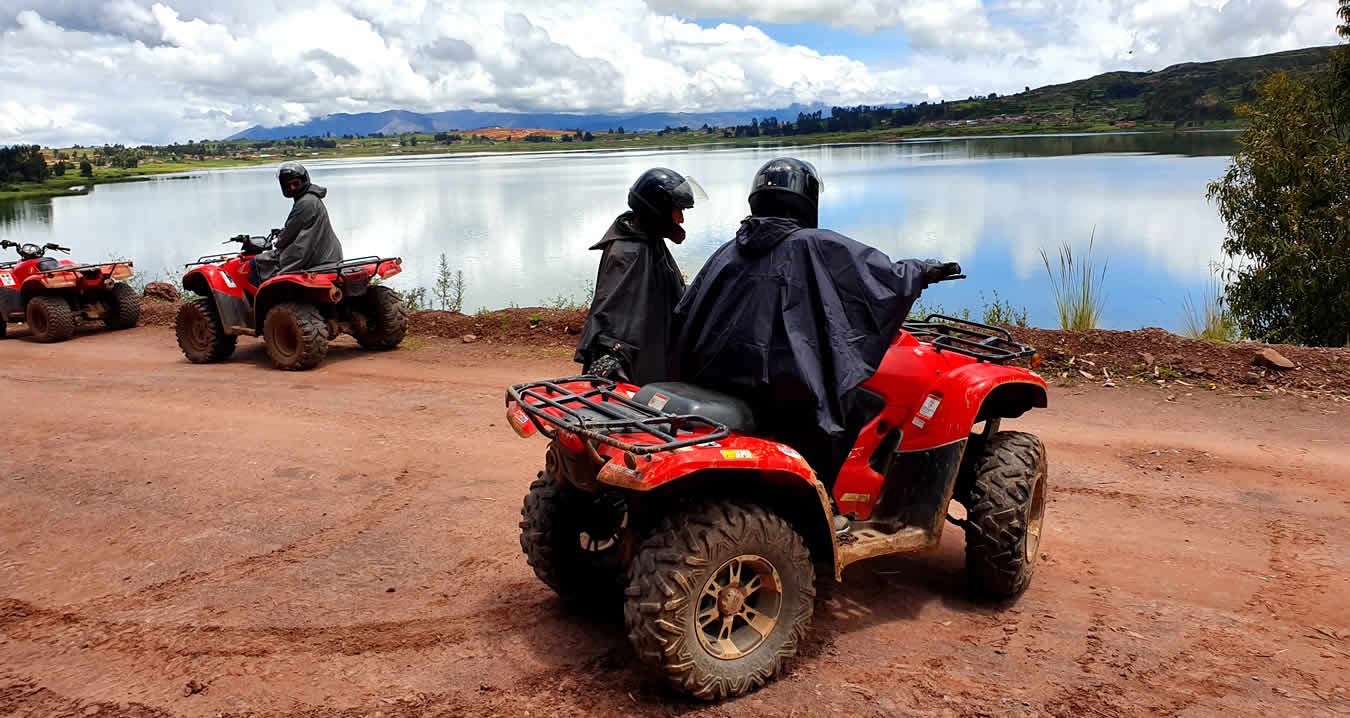 ATV tours in the Sacred Valley
Atv tours in the Sacred Valley offer a thrilling and unforgettable experience. From the comfort of your quad bike, you can explore the rugged terrain and take in spectacular views of Peru's stunning landscape. The tour begins with an orientation on how to drive an ATV safely before heading out into the valley.
You will then be taken along winding paths surrounded by mountains and breathtaking scenery as you navigate hidden trails and discover ancient ruins, Incan sites, remote villages, and more.
No matter your riding level, the ATV tour offers something for everyone; from novices to experts, there are options that suit you. During the ride, experienced guides will provide helpful tips on navigating around obstacles while also sharing interesting facts about local culture and history.
For the intrepid and those who appreciate nature, this tour offers a chance to traverse spectacular mountain terrain and pause along the way for breathtaking vistas.
Safety is of utmost importance when participating in an ATV tour, so donning protective garments like long pants and closed-toe shoes as well as helmets (usually provided by the tour operators) is a must.
Additionally, it's important to remember that driving off-road requires different techniques than normal road driving so be sure to listen carefully during your orientation session beforehand if this is something new for you.
So why not come down to Peru's Sacred Valley today? With its stunning landscapes, fascinating cultural heritage sites dotted around every corner, and plenty of adventure thrown into the mix, this unique destination has something special waiting for everyone who visits. So get ready for some serious fun on four wheels – book yourself onto one of these incredible atv tours now.
Exploring the Sacred Valley on an ATV is a thrilling experience that will give you memories to last a lifetime. Let's take this adventure up another notch and explore Rainbow Mountain on an ATV.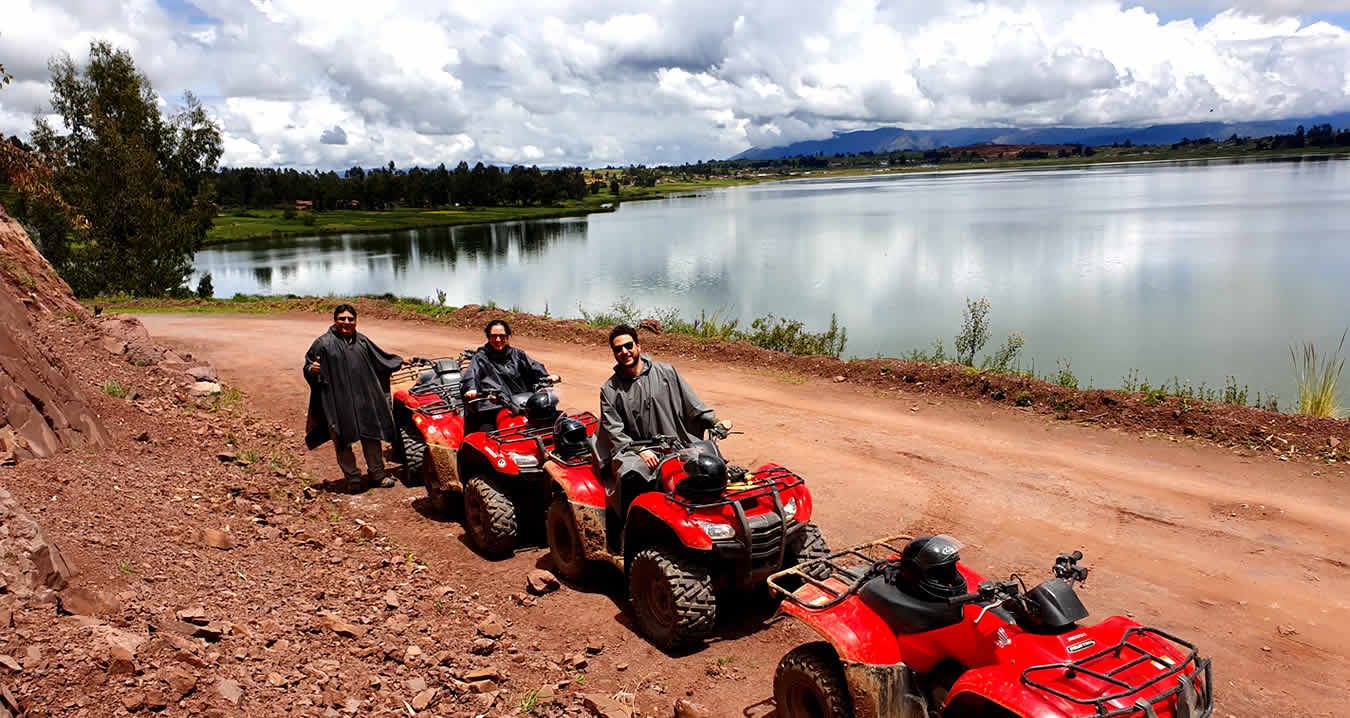 ATV tours in the Rainbow Mountain
Discover the beauty of Peru's Rainbow Mountain on an ATV tour. Experience the beauty of Peru's Rainbow Mountain thrillingly and uniquely, with guidance from professional guides to ensure your safety and enjoyment. Expert guides will ensure a secure and pleasurable ride as you traverse this breathtaking scenery.
Choose your adventure with various tours available through Cusco, the Sacred Valley, Maras Moray, or even just Rainbow Mountain itself. Get ready for some off-road excitement as you traverse rocky terrain and ascend winding mountain roads to reach incredible heights. The majestic colors of Vinicunca (Rainbow Mountain) will take your breath away – from its snow-capped peaks down to its red dunes – all visible from atop your ATV.
Experience the wonders of antiquity on a two-wheeled adventure through centuries-old ruins. Learn about Incan architecture at Sacsayhuaman Fortress or visit Ollantaytambo Temple, which was built by Emperor Pachacuti during his reign in the 15th century AD.
Stop at nearby villages where locals still practice traditional customs like weaving textiles using alpaca wool or farming their land with llamas leading them along steep terraces carved into hillsides hundreds of years ago.
So what are you waiting for? Book an ATV tour today and experience Peru's breathtaking scenery in an unforgettable way. Safety is assured, so you can simply sit back and savor the spectacular sights of Peru.
Closing sentence about "atv in the rainbow mountain": Exploring the Rainbow Mountain on an ATV is a thrilling experience that will leave you with lasting memories. Transition sentence about the Next Heading: Moving on, another popular activity to do while visiting Cusco is taking an ATV tour of Maras Moray.
ATV in Maras Moray
Experience the beauty of Maras Moray on an ATV tour. Behold the picturesque scenery of Maras Moray and its ancient ruins, an ideal destination for any explorer – a thrilling ATV tour awaits.
As you ride your quad bike around the rugged terrain, prepare to explore the Inca sites in style. Our professional guides will provide instruction and safety tips to enjoy a safe adventure while taking in all of the incredible views.
Choose your adventure with our customizable tours. Take a leisurely journey to enjoy the view or an action-packed trek through some off-road trails – we have something for everyone. Our guides will keep you on the right path while allowing for a good time.
Explore ancient ruins like Salinas de Maras, an old salt mine used by the Incas hundreds of years ago. See how they created intricate irrigation systems to collect water from natural springs before turning them into pools filled with salty mineral water, which was then used for trading purposes. Marvel at Moray's terraced circular depressions is believed to be part of an agricultural experiment conducted by pre-Inca civilizations.
Take in spectacular views from one of many lookout points throughout Maras Moray where you can observe snow-capped mountains, stunning valleys, and lush green landscapes below – all within reach when riding on your ATV. Embark on an electrifying adventure while also discovering the culture and heritage of this amazing region in Peru.
Our experienced team ensures that each rider has a safe yet enjoyable time out on their ATV tour in Maras Moray, no matter what level of rider they are. We provide full protective gear such as helmets, goggles, gloves, etc., ensuring maximum comfort while keeping riders protected against any unforeseen circumstances during their ride around these fascinating archaeological sites surrounded by breathtaking nature scenes.
The experience of ATV in Maras Moray is truly one that will be remembered for a lifetime. Let's explore the exciting world of ATV tours in Cusco.
ATV tours in Cusco
Cusco, Peru, is a destination like no other. For the thrill-seeker and culture enthusiast alike, Cusco, Peru, is a destination that promises to deliver. For those seeking an adrenaline rush, ATV tours in Cusco are the perfect way to explore the area and take in its breathtaking scenery.
With professional instruction and your quad bike, you can choose your adventure as you traverse ancient ruins and learn about local culture and history.
On one of our ATV tours in Cusco, experience the thrill of riding through Inca sites such as Saqsaywaman or Tambomachay. Enjoy spectacular views of Machu Picchu from afar while zooming along winding trails surrounded by lush vegetation – all with expert guidance to ensure your safety throughout the journey. Plus, we'll provide you with helmets and protective gear so that even beginners can have fun without worry.
Take advantage of our off-road excursions to explore remote areas inaccessible by car or foot – like Maras Moray, where salt has been harvested since pre-Inca times – or Rainbow Mountain, which features some of the most vibrant colors found anywhere on earth. Our experienced guides will share stories about Peruvian traditions as well as teach you how to handle different terrain types safely during these exciting rides across high altitudes (up to 5100 meters above sea level).
Our ATV tours in Cusco are designed for adventurers who want an unforgettable experience exploring this unique region at their own pace. So come join us today for a thrilling ride full of stunning landscapes, cultural insights, and laughs.
Atv tours in Cusco provide an exciting way to explore the area and create unforgettable memories. To ensure a safe experience, it is important to follow safety guidelines when participating in ATV tours. To ensure a fun yet secure experience, it is essential to observe precautionary measures when taking part in ATV tours.
Have Fun in a Safe Environment
That's why all our tours come with the necessary safety equipment for your comfort and protection. Our team of experienced professionals has years of experience in leading quad bike tours through some of the most beautiful landscapes in Peru, so you can be sure that you're getting professional instruction on how to ride safely and enjoyably.
Our ATV tour packages include helmets, gloves, goggles, and chest protectors, which are designed to keep you safe while out exploring ancient ruins or taking in spectacular views from atop one of Cusco's many mountains. We also provide secure straps for your belongings so they don't get lost during your journey.
No matter your experience level, our adventure packages have something for everyone – from self-guided tours to expertly guided ones. Whether you want a self-guided tour or an expertly guided one, our range includes visits to Rainbow Mountain or Maras Moray as well as cultural excursions into local villages where you can learn about the history and culture of this amazing region.
All rides are tailored according to skill level – beginner or advanced – so everyone can find their own pace without feeling overwhelmed by difficult terrain.
Inhale deeply, dismiss anxieties, don your helmet, and prepare for a remarkable experience. Our guides will always be on hand if any help is needed along the way too. We believe that having fun should never come at the expense of safety; that's why all riders must adhere strictly to our guidelines regarding speed limits, turns, and other maneuvers throughout their journey with us.
FAQs about Quad Bike Cusco:
Why is Cusco so special?
Cusco is an incredibly special city with a unique combination of culture and history. It was once the capital of the Inca Empire, and its architecture reflects this long-standing legacy. The city is situated in the Peruvian Andes at a lofty altitude of 11,000 feet and offers breathtaking sights to be seen by travelers from everywhere.
Cusco also offers numerous cultural experiences, such as visiting ancient ruins or participating in traditional festivals like Inti Raymi, which celebrates their ancestral heritage every June 24th. In addition to its stunning landscape and rich history, Cusco boasts a vibrant nightlife with plenty of restaurants serving up delicious local cuisine for everyone to enjoy.
What is the purpose of a quad bike?
The purpose of a quad bike is to provide an efficient and exhilarating way to traverse difficult terrain. Four-wheeled stability and two-wheel agility enables riders to maneuver tricky curves and ascend steep hills without apprehension.
Quad bikes are also ideal for transporting passengers or cargo to remote and challenging locations, making them perfect for outdoor activities. With its powerful engine and rugged construction, a quad bike can take you places other vehicles cannot.
What is the danger of quad bikes?
Quad bikes are a favorite way of traveling off-road but they can be hazardous. Quad bike riders risk serious injury or death due to their lack of protection and stability. Sharp turns taken too quickly or at excessive speed can cause loss of control, leading to overturning or collision with other vehicles and objects.
Other risks include poor maintenance leading to mechanical failure and environmental hazards such as slippery surfaces, deep water crossings, steep terrain, and sudden obstacles. Riders should always don protective apparel when operating a quad bike and ensure it is consistently kept in optimal condition for secure usage.
Why is it called a quad bike?
An ATV, commonly referred to as a quad bike, is an engine-powered four-wheeled vehicle designed for off-road recreation. The name "quad" comes from having four wheels, and its engine power is usually distributed to all four of them.
Quad bikes are designed with rugged construction and heavy suspension systems to handle off-road terrains such as mud, snow, sand, or rock better than traditional motorcycles or cars. They are popular among travelers who want to explore remote areas not accessible by other vehicles and bloggers who use them to capture stunning natural photos.
Conclusion
Quad biking in Cusco is an amazing way to explore the city and its ancient ruins. It's a great way to learn about local culture, and history, and take in spectacular views while getting professional instruction. With several different tours available, you can choose your adventure and have fun in a safe environment.
Quad bike Cusco offers something for everyone; from novice riders to experienced thrill seekers – it's sure to be an unforgettable experience that will leave you wanting more.
Explore the amazing terrain of Cusco with a Quad Bike and discover all this stunning destination has to offer. Make your travel dreams come true by booking an unforgettable quad bike adventure today!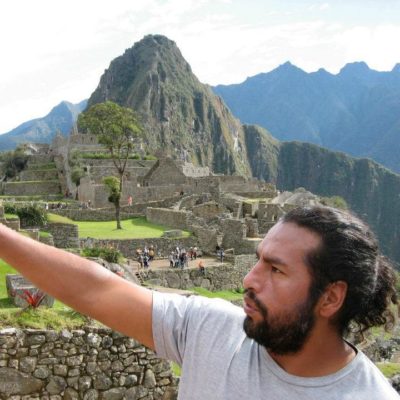 Miguel is a professional tour guide from Cusco, Peru, with almost 20 years of experience leading tours and a deep knowledge of Peru's cultural and ecological diversity. He is also an advocate of ecotourism and cultural sensitivity and has lectured on these topics in the US and Europe. He co-founded Evolution Treks Peru, a worker-owned travel company based in Cusco.