The Lares trek in Peru is a magnificent alternative to the other trekking routes to Machu Picchu, but it gets much better when it is combined with the short Inca trail to Machu Picchu.
The best option for those who want to get off the 'beaten track' and walk at least on the last stretch of the Inca trail to Machu Picchu
When you hike this route, you get to see Machu Picchu twice. Once at Sunset and another one at Sunrise!
This beautiful trek begins at a small village in the Sacred Valley and ascends over to the the Sikllakasa Mountain pass located over 4700 meters (15,400 feet) passing through traditional, colorful villages and camping near the relaxing hot springs in Lares and a n unforgettable tour of Machu Picchu.
Trek Details:
Hike Distance:  .46

km / 29 miles

Difficulty:​ Hard
Duration: 5

 

days/4    nights
Highest point:

 

Sikllakasa  pass

 

15200 ft / 4700 m

Elevation Gain: 6,000 ft / 1900 meters
Weather:

 

See below
Seasons:

 

All year round. 
Hike Trail Map:   See below
Cusco drive time to starting point:

 

3hr 15min+
Town Nearest Hike: Urubamba
Beauty:   Paramo, Puna, Glacier lakes,  Vilcabamba mountain range views, scenic trail, Grassland area, local villages, wildlife: prairie horses and dogs, Vizcachas and  Andean foxes, Spectacled bear, Dwarfed deer. Birds; Condor, torrent tyranulett, black-chested buzzard-eagle, Chiguanco thrush, hummingbirds.
Activities:   Hiking trail, archaeological site tours, nature and Andean community visits.​
Price:
From 995 USD
Includes:
Professional, bilingual Tour Guide

Collection from hotel

Return transportation (bus to start of trail plus tourist train back to Ollantaytambo and transfer from Ollantaytambo to Cusco)**

Entrance fees to Machu Picchu and the  Short Inca Trail

1 one way bus tickets Machu Picchu to Aguas Calientes on day 4, and 1 round trip ticket Aguas Calientes to Machu Picchu and back to Aguas Calientes on day 5.

Meals throughout the tour. (breakfast on the first day, and  lunch on the fifth day in Aguas Calientes town are not included).  

Dining tent with tables and chairs

Cook

2 person  tents

Basic foam sleeping pads 

Porters, Horsemen and mules to carry food, cooking and camping equipment only. *

Extra oxygen

First Aid kit

Vegetarian/special diet options available upon request
*Important!!!  Our porters carry cooking and camping equipment only. YOU NEED to hire an EXTRA PORTER if you don't wish to carry your own belongings on the trail.  We recommend this as the best thing to do when booking a tour with us.
There is no such thing as a 'free porter'. Companies that offer this complimentary service are usually engaging in exploitative practices that force porters to carry extra  unpaid weight. Do not fall for of this  fishy marketing scheme.
Prices from: $995 USD Per Person (Based on group size; see chart below)
*Join one of the following existing groups and get a great discount.
BOOK YOUR TOUR HERE
BOOKING FORM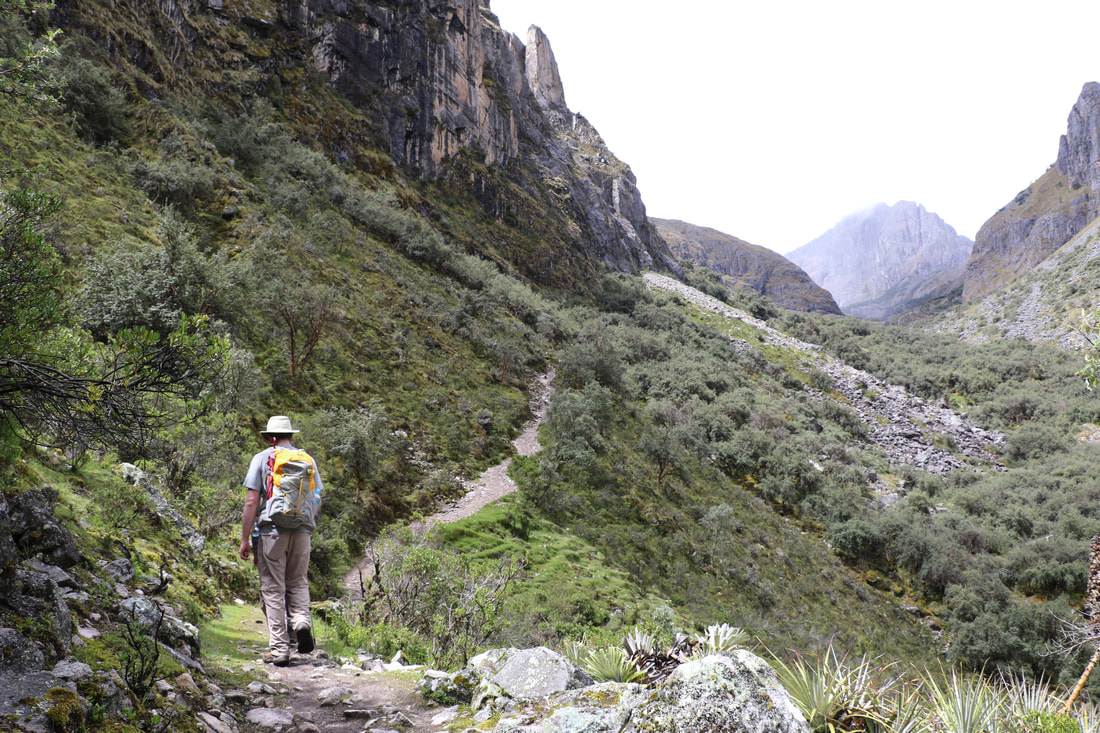 Day One
Start time
Between 4:30 am and 5:00 am
​
Travel
Two hours by bus from Cusco to Pumawanka.
Highlights of the day
Our hike starts with a steady climbing toward the Sikllacasa mountain pass. We will follow the Cuyoq river up the stream. Half way into the climb we will stop for lunch at Pakchapata. The Lares trek is unique off the beaten track hike. Sometimes we are the only company leading a tour here. After lunch, we will continue our steady climb toward our campsite at Cuyoq. This location has the best views of the sky and the milky way. One of our favorite campsites.
Difficulty level
Difficult. The trail starts at 2840m/9223ft climbing to 4200m/14000 ft, The Distance on this hike is relatively short, only 5 miles / 8km
Meals
Breakfast at Pumamarka.
Lunch during hike and dinner at campsite. Vegetarian options are available. Please advise us if you require this option.
Accommodation
Camping in tents at a campsite in Cuyoq.  The temperature at night is usually around 1°C/34°F.
Day Two
Start time
Between 5:30 am and 6:30 am
Activities. 
Trekking all day
Highlights of the day
The climb toward the Sikllakasa continues to this day. After we finish our nutrient breakfast, We will start our mission to conquer the mountain pass at SIkllacasa 15500 ft / 4700 m. After we reach the mountain top, we will descend the trail toward our lunch place at Cuncani. 3600m / 12000 ft. After lunch, the trail will become much easier, part of it will be a hike along the road toward Lares and the other part of the trail that leads to the hot springs. The Lares hot springs will be the best reward for such a challenging and tiring day.
Difficulty level
Difficult. The altitude gain becomes obvious, the air gets thinner and our pace slower. The total time to get the pass is 3.5 hours. After we 
Meals
Breakfast at the campsite in Cuyoq.
Lunch during hike and dinner at the campsite. Vegetarian options are available. Please advise us if you require this option.
Accommodation
Camping in tents at a campsite at Lares hot springs.  The temperature at night is usually around 3°C/40°F.
Start time
Between 7:30 am and 8:30 am
Activities. Walking tour of Lares town and bus trip to Ollantaytambo.
Highlights of the day
On this day we will sleep in, our wake up time will be slightly later than the previous days 7:30 Am. After breakfast, we will pack our stuff and head toward Lares town. In this place, we ill have a small walking tour of the many small attractions that this Andean village has. Then, We will return to our campsite where we will have lunch before we take our bus toward our campsite at Ollantaytambo. The bus ride to Ollantaytambo lasts 4 hours. 

Difficulty level
Very Easy. Only a small walk back and forth toward Lares Town and then the bus ride to Ollantaytambo.
Meals
Breakfast at the campsite in Lares hot springs. Lunch at the campsite.
Dinner at a restaurant in Ollantaytambo.
 Vegetarian options are available. Please advise us if you require this option.
Accommodation
Camping in tents at Ollantaytambo.
Start  time
5:40 AM
Travel
Train to kilometer 104. 
​Highlights of the day
The day starts with a scenic train journey (approximately 2 hours) to the starting point of the Inca trail, which is the 104 Km or Chachabamba. From this place, we hike for approx. 3 hours to the Incan site Wiñay Wayna  (Forever Young) 2680m/8792ft. After lunch, we continue the walk until we reach the Sungate or Inti Punku 2730m/8957ft, from where you will have your first dramatic panoramic view of Machu Picchu  (2400m/7873ft). We continue the walk toward Machu Picchu where we have an amazing view of the sunset. Finally, we take a shuttle bus down to Aguas Calientes.
Difficulty level
Moderate ascent to Winay Wayna and Inti Punku and then a descent to Machu Picchu and Aguas Calientes.
Meals
Lunch on the trek and dinner in Aguas Calientes.
Accommodation:
Camping in   Puente Ruinas
Other information:
Although a shortened Inca Trail, this trek joins the main inca trail in time to see the highlights. 
Start time
5:00 AM
Travel
Bus to Machu Picchu
Highlights of the day
A walking tour (2 hours) of Machu Picchu by your guide.
On completion of the tour those that have selected to  climb of Huayna Picchu 2720m/8923ft  (It takes 45 minutes to reach the top) will commence their climb.
Difficulty level
Easy
Meals
Breakfast in Hotel in Aguas Calientes. Lunch in Aguas Calientes.
Accommodation 
You will be back in Cusco in your own accommodation for this evening.
Other useful information:
Original passport (and *International Student card (ISIC) if applicable)

Travel Insurance is essential
Sleeping bag (not included but can be hired from us)
Walking boots
Waterproof jacket/rain poncho
Warm jacket
Hat and gloves
T-shirts
Comfortable trousers
Sun hat
Sun protection cream (factor 35 recommended)
Insect repellent
Water (only until lunch time on day 1)
Toiletries and hand sanitizer.
Personal medication
Camera 
Torch with spare batteries (headlamps are useful) 
Premium sleeping bag  (0°F) –   

$40 

Trekking poles (single) – $10 
Premium insulated Inflatable pads – 

$35 

Full porter (up to 14kg or 30lbs can be shared between 2 people)*** – $180
Half porter  (up to 7kg or 15lbs)

***

 –

 $100

If you require an extra porter  or a half porter, please advise us when filling in booking form.
Single tent  supplement – $35
Train Upgrade  – Vistadome   train or 360° Inca Rail train    –   $75USD
Huayna Picchu Mountain or Machu Picchu mountain permits. $90USD
​
***NOTE: Total weight  includes sleeping bag and pads  (Sleeping bags and pads weight approx. 3kg)
​
Shorts

Walking stick (with rubber tip)

Plasters and bandages

Sandals

Extra money

Bathing suit (for hot springs in Aguas Calientes)
1 Trekker $1990 per person
2 to 3 Trekkers: $1205 per person
4 or more Trekkers: $995 per person
The Lares Trek has different levels of difficulty depending on where one starts this hike and the duration of the trek that one takes. At evolution treks Peru, Our Lares hike takes five days and four nights with a connection to the short Inca Trail to Machu Picchu. We start our hike in the small village of Pumahuanca, located only 4 miles away from the city of Urubamba. The Altitude of this location is 2840m/9223ft. Due to the altitude of the highest point of this hike, which is the Sikallakasa pass 15200 ft / 4700 m ft, The difficulty level for days one and two is hard. To make things easier, we split this strenuous climb in two days. Notice that we have to gain almost 2,000 meters or 6,000 feet of altitude in a matter of two days, which is quite a challenge but based our itinerary makes it doable..
​Other important information:
​Breakfast starts at 5:30 AM on most days. 

Please follow the directions of your tour leader regarding meal times and be there on time to avoid eating cold foods or left overs. 

Please let us know if you have a particular dietary request or if you are vegetarian or vegan.

​

We cannot provide Kosher alternatives.
We will supply you with boiled filtered water.

We do this every day in the mornings before we start hiking and after our lunch breaks. 

Bring a refillable water container or camelback for when you are hiking. 

We strongly advise you to drink at least 2 litres of water a day.  Do not attempt to drink water from the streams, rivers or faucets along the trails. 

Do not bring plastic bottled water to our excursions.

 Use only drinkable water to brush your teeth.

 

 
We recommend that all our customers purchase full coverage travel health insurance plan before coming to Peru. Most airfare engines offer this service at the time of purchasing their flight tickets.

Yellow fever, malaria or other kinds of inoculation (vaccination) are NOT needed for when you visit Cusco's Andean region.

Please let us know of any changes in your health conditions within the first 24 hours of your arrival to Cusco. We want to know your progress to acclimating to high altitude and your adaptation to the local food.
We strongly encourage you to wear trekking boots on our treks. 

Please make sure to wear boots that you have already broken in prior to the trek.

We discourage people from wearing brand new trekking boots. You are more prone to get blisters from wearing brand new boots.   
Smoking is not allowed while on the trek. We want you to have an overall healthy experience while in the mountains.

We discourage people from heavy alcohol consumption while on the hikes.

Any type of mind altering substances are discouraged and illegal while on the hikes.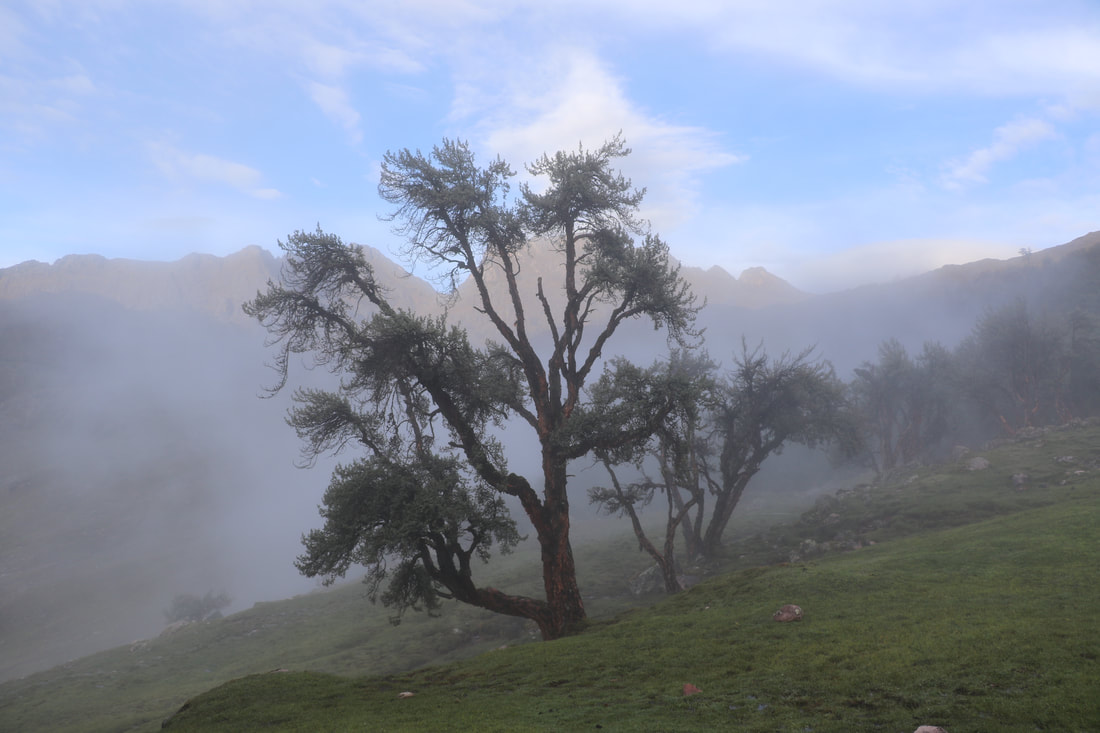 LARES TREK VS INCA TRAIL
Unlike the Inca Trail to Machu Picchu, The Lares trek is an off the beaten track area; its main routes climb the Urubamba mountain range toward the Lares town or the Lares hot spring which is the end point of this alternative Inca trail. The Lares trek does not take people to Machu Picchu, rather the opposite, it takes people away from Machu Picchu.
In the Lares trek, the most important attractions are the snow-capped mountains of the Urubamba mountain range, the indigenous villages and people of the Lares mountains, and their unique unchanged lifestyle that has remained this way for centuries despite the influence of the Spanish people after the invasion of the Inca empire. These indigenous people are mainly potato farmers, and llama and alpaca herders, two of the exotic animals that can be seen all over the trail to Lares. Also, they are expert weavers, who use the wool of these animals to weave very exotic textiles that depict figures related to their cosmovision and their traditions. Undoubtedly something worth seeing along this trek. 
The Inca Trail, however, is a place filled with an impressive number of Incan sites, and ecosystems which provide people with a unique opportunity to be immersed in the historical and ecological context that these places offer. Also, this trail leads directly to Machu Picchu which is the reason why it is considered on of the best hiking routes in the world. 
LARES TREK VS SALKANTAY TREK
​
The Lares Trek and the Salkantay trek are the two most known alternative hikes to the Inca trail. These two destinations become the favorite alternative hikes for those people who did not manage to get a permit for the Inca Trail. Both of these hikes present different characteristics and offer different attractions that one must choose when hiking to Machu Picchu.
The Lares trek is a perfect location to get away from the crowds and experience solitude while getting to know the lives f the Andean indigenous people and their traditions. 
In contrast, the Salkantay trek offers beautiful views of both the alpine scenery of the Vilcabamba range and the impressive flora and fauna of the cloud forest. Unlike the Lares trek where silence, remoteness and solitude reign, The Salkantay Trek, passes through some villages and small towns that take away those important aspects of camping which to many is the ultimate reason for why go camping. Perhaps, one of the most significant advantages of the Salkantay trek is that it ends in Aguas Calientes which is the nearest town to Machu Picchu.