The Vilcabamba trek is one of our favorite hikes! If you are looking for something 100% off the beaten track, then this is your kind of trek.
​
Walk through the valleys, jungles and mountains of the Vilcabamba mountain range. An amazing adventure along part of an original Inca trail. This path will take you from the last capital of the Inca to the mysterious lost city of Machu Picchu!
Trek Details:
Hike Distance:  39 miles / 62 kms

Difficulty:​ Hard – Strenuous

Duration: 5 days/4 nights

Elevation Gain: 1600m/5250ft.

Weather: See below

Seasons: March to December (this trek does not operate during January and February) 

Hike Trail Map:  See below

Cusco Drive Time to Starting Point:  6 hours

Town Nearest Hike: Huancacalle – Santa Teresa

Highlights: High mountain jungle, Cloud forests, High mountain Paramo.  Views of Vilcabamba mountain range, scenic trail, and local villages.  Wildlife: Prairie horses and dogs, Vizcachas, Andean foxes, spectacled bear. Birds including; Andean condor, Mitred Parakeet.

Activities: Hiking trail, archaeological site tours, nature and Andean community visits.​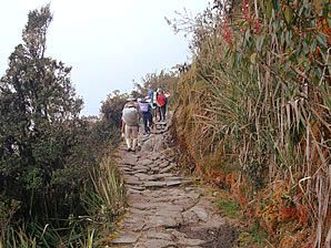 Includes:
Professional, bilingual Tour Guide.

​Assistant Guide (for groups of 9 or more people).

Collection from hotel.

​Return transportation; Bus to the start of the trail and tourist train back to Cusco.

​Water (Not included for first 4 hours of trek, we will provide you with boiled water for drinking for the remainder of the tour).

Entrance fees to Machu Picchu and return bus to Machu Picchu.

​5 breakfasts, 4 lunches, 5 afternoon snacks, 3 dinners (Dinner on day 4 and lunch on the last day in Aguas Calientes are not included). 

Dining tent with tables and chairs.

Cook.

2 person tent.

​​Sleeping pads.

Horsemen and Mules (to carry cooking and camping equipment an up to 10Kgs of your belongings).

1 night accommodation in Aguas Calientes.

Bus trip from Machu Picchu down to Aguas Calientes.

Oxygen bottle.

First Aid kit.               
Vegetarian food/Special meals on request at  no extra cost!

 
Prices: from $700 USD Per person based on group size.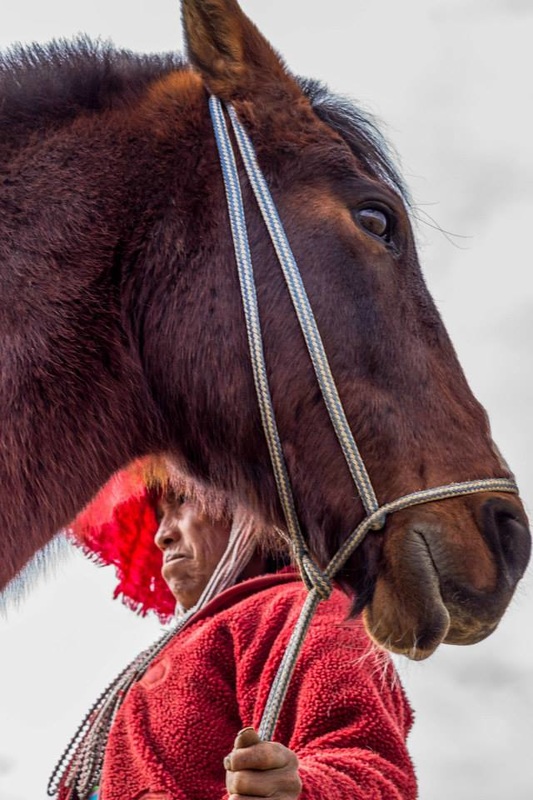 Starting time: 
Between 4:30 am and 5:00am
Travel:
By Bus from Cusco to Huancacalle approximately a 6.5 hour drive.
Difficulty level: 
Easy.  The trail start at 3120m/10233ft climbing to 3300m/10824 ft.
Highlights of the Day: 
The bus ride to Huancacalle is one of the most beautiful in Cusco.  We will see many ecosystems along the way, and perhaps the best photo opportunities to capture the stunning landscapes of the Urubamba mountain range.  Flora and fauna on this part of the trek are incredibly varied and you will see many birds such as hummingbirds as well as plants such as coffee, coca and tropical fruits.  We will go deep into the cloud forest and the high jungle.  In the afternoon we will be visiting the complexes of Rosaspata, and Nusta hispana (the white rock).
Meals: 
Lunch on the way to Huancacalle and dinner at our evening campsite.
Accommodation: 
Camping in tents at a campsite in the small village of Pillaupata.  The temperature at night is usually around 10°C/50°F.
Other information:
Most of today will be spent travelling by bus to the starting point of the trek.  The visit to the Incan sites of Rosaspata and Nusta Hispana will be the highlight of our long day.  The historical significance of these places is perhaps one of the most fascinating parts of all Incan history.
Starting time: 
5:00 am
Travel:
Trekking all day.
Difficulty level: 
Hard.
Highlights of the Day: 
We will walk up the hill towards Hasut'ina pass 4500m/14763ft on an original Incan trail.  Today we will have plenty of beautiful views of the mountains and a chance to see many animals. We will visit some local families at Rakachaka village .  The altitude gain for the day will be from 2950m/9678ft to 4500m/14763ft, the second highest point on the trail.
Meals: 
Breakfast at the campsite, lunch on the trek and dinner at Rakachaka campsite in the evening.
Accommodation: 
Camping in tents at Rakachaka 3600m/11811ft.
Other information:
The Vilcabamba Machu Picchu trek is a one of a kind experience. It is one of the best "off the beaten track" routes in Cusco. At times, we will be the only people walking these mountains and jungles.
Starting time: 
5:00 am
Travel:
Trekking all day.
Difficulty level: 
Very hard – Strenuous.
Highlights of the Day: 
A steady uphill walk will lead us over three passes 4500m/14763ft.  From Mojon pass, we will have an incredible view of Machu Picchu and the Urubamba mountain range.  This climb will take us extremely close to the snow peaked mountains of Pumasillo mountain 6012m/19724ft and Sacsarayoc 6026m/19770ft, the views will be spectacular all day.  Finally, we will have a 4 hour downhill trek back into the cloud forest which we take us to our third campsite.
Meals: 
Breakfast at our campsite in the morning, lunch along the way after the third mountain pass and dinner at our evening campsite.
Accommodation: 
Camping in tents at a campsite at Mutuypata at 3200m/10498ft.
Other information:
The third day is the most challenging of this trek.  We recommend that you hire a horse from the villagers on this day. This is the best way to help you get over these mountains whilst also contributing directly to the local economy.
Starting time: 
6:00 am
Travel:
Trekking for half the day and bus ride toward the campsite.
Difficulty level: 
Moderate.
Highlights of the Day: 
On this day we will have a combination of travelling by car and hiking towards our destination at Aguas Calientes.  We start the day with a 4 hour downhill walk which will take us to Yanatile where we will have lunch.  From Yanatile, we will take a 2 hour truck ride  to Santa Teresa and the hydroelectric station.  We will then walk to Aguas Calientes, where we will spend the night in a hostel.  Today as we are descending the scenery is lovely and green in contrast to the other days of snow capped mountains.
Meals: 
Breakfast at our campsite in the morning, lunch during the hike at Yanatile and dinner at Aguas Calientes.
Accommodation: 
Hostel in Aguas Calientes.
Other information:
At Aguas Calientes, you can take advantage of the thermal springs in town (entrance ten soles), it is a real treat after finishing the trek.
Starting time: 
5:00 am
Travel:
Bus to Machu Picchu.
Difficulty level: 
Moderate.
Highlights of the Day: 
A 2 hour walking tour of Machu Picchu with your guide. There is the optional activity of Huayna Picchu 2720m/8923ft which takes 45 minutes to reach the top.
Meals: 
Breakfast at our hostel in Aguas Calientes. Lunch in Aguas Calientes (not included).
Accommodation: 
You will be back in Cusco to your own accommodation for this evening.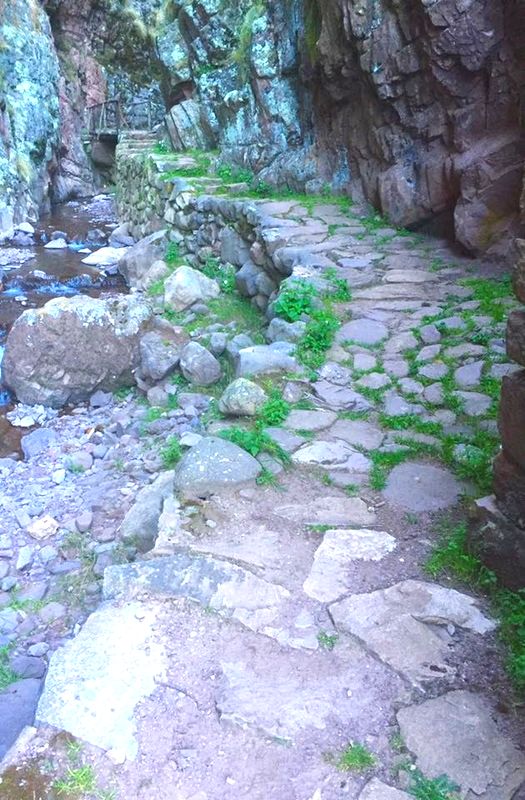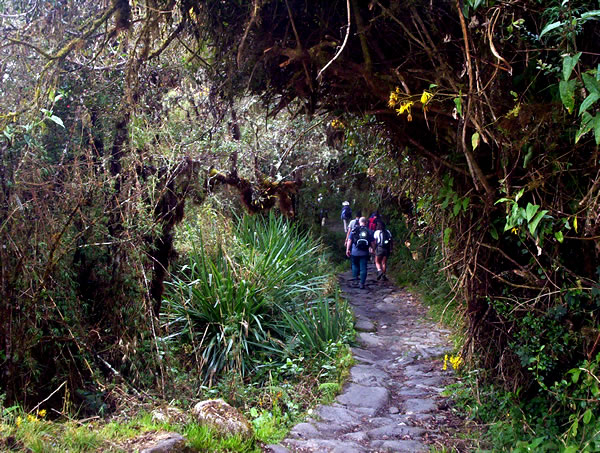 Permits are needed for your chosen start date. Tour prices are based on the number of people in a group. Prices are valid from March 2023 through December 2023. All prices quoted are $USD
2-3 Trekkers:

 

 

$1300 per person

4-5 Trekkers:

 

$1100

 per person

6 or more Trekkers:

 

$900 per person
  IMPORTANT: One of the reasons that our price may be higher than that of other agencies is that we ALWAYS book the maximum number of porters possible (according to Inca Trail regulations) so that our porters are not overloaded. Beware of this when booking they might be cheaper because of this!
2 people (minimum group size) should have a maximum of 5 porters and 16 people (max group size) should have 22 porters.
** Tips for porters, cooks or guides are optional and are NOT included in price. However our advice is that you tip our staff based on their performance, service and knowledge. Our guidelines for tipping our staff is: porters 100 Soles. Assistant cook 150 Soles. Main Chef 300 Soles. Assistant Tour guides can be tipped collectively by the members of the group. Main guides are tipped on a one on one basis.
Train included in all tours is the Cerrojo backpacker (to Ollanta). Train times will only be confirmed once full amount of tour is paid. The earliest train you could take is the 1:37 PM and the 9:20 PM being the last train (high season June to September). We will organize the transport back to Cusco (by taxi or by bus).
Please Note: Train times are subject to change based on Peru rail time table and availability. If organized in advance, the train can be upgraded to Vistadome (larger windows than the backpacker cerrojo train) for an additional price. 
Original passport and Student card (if applicable)

Sleeping bag (not included)

Walking boots

Waterproof jacket/rain poncho

Warm jacket

Hat and gloves

T-shirts

Hand sanitizers

Comfortable trousers

Sun hat

Sun protection cream

Insect Repellent

Toiletries

Personal medication

Camera and films

Torch with spare batteries (headlamps are useful)
Hire of sleeping bag (5 seasons) –

 

$40 

Walking stick (single) –

 

$10 
Inflatable mattress –

 

$35 

Single tent supplement –

 

$35
Extra horse on the trek $40 a day
​***NOTE: Total weight includes sleeping bag and pads  (Sleeping bags and pads weight approx. 3kg) 
Shorts

Walking stick

Plasters and bandages

Sandals

Binoculars

Extra money

Bathing suit for hot springs in Aguas Calientes or Santa Teresa (not included).