Fewer places in the world have such a powerful impact on the lives of people. In Peru, the Salkantay trek to Machu Picchu is one of them.
Come join us, and be amazed by the massive Salkantay Mountain, 'The Savage'.  Visit Machu Picchu Twice, Stay away from the masses and Explore the National Sanctuary of Machu Picchu from a different perspective – valleys, grasslands, glaciers, cloud forests and jungles! The best alternative Inca trail, without a doubt.
Trek Details:
Hike Distance:  60.5 Km/37.6 Miles

Difficulty:​ Hard

Duration: 5 days/4 nights
Highest point: Salkantay pass 4600 meters/14992 ft

Elevation Gain: 1737 meters, 5700 ft.

Weather: See below
Seasons: All year round. 
Hike Trail Map:  See below
Cusco Drive Time to starting point:  3hr 15min+
Town Nearest Hike:   Mollepata 
Beauty:   Paramo, Puna, Glacier lakes, Vilcabamba mountain range views, scenic trail, Grassland area, local villages, wildlife: prairie horses and dogs, Vizcachas and  andean foxes, Spectacled bear, Dwarfed deer. Birds; Condor, torrent tyranulettt, black-chested buzzard-eagle, Chiguanco thrush, hummigbirds.
Activities: Hiking trail, archaeological site tours, nature and Andean community visits.​
INCLUDES:
Professional, bilingual Tour Guide

​

​

Collection from hotel

Return transportation (bus to start of trail and tourist train back to Ollanta)**

Entrance fee to Machu Picchu

3 one way bus tickets up to Machu Picchu and Aguas Calientes.

4 breakfasts, 4 lunches, 4 afternoon snacks  and 3 dinners (breakfast on day 1 and dinner and lunch in Aguas Calientes town are not included).  

Dining tent with tables and chairs

Cook

2-people tents

Sleeping mattresses

Horseman and mules (to carry cooking and camping equipment)

1 night accommodation in hotel in Aguas Calientes

Extra oxygen

First Aid kit

Vegetarian/special diet options available upon request
Prices from: $655 USD Per Person (Based on group size)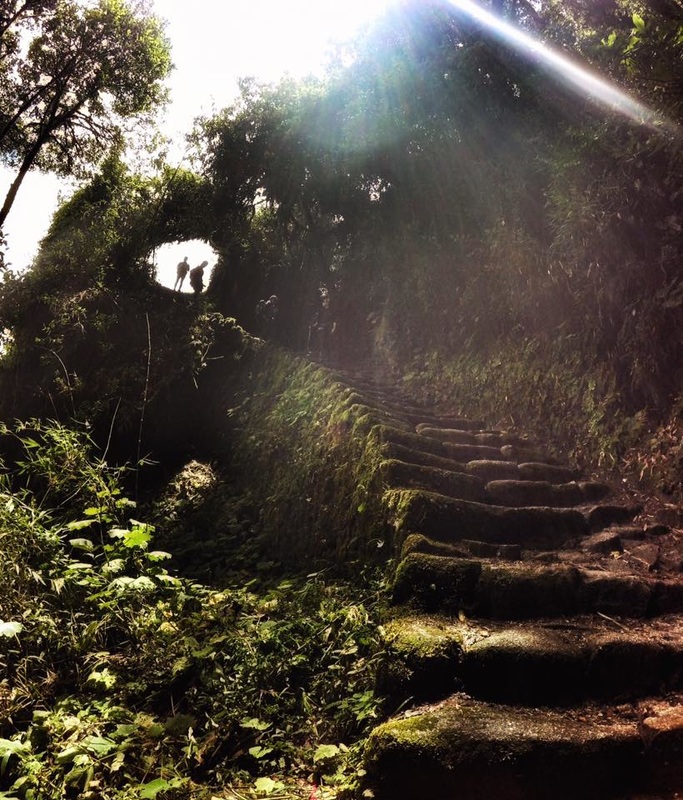 Start time:
Between 4:30 AM and 5:00 AM
Travel: 
Bus to Mollepata ( local bus if less than 5 people)
Highlights of the day: 
A three hour trek to Cruzpata. Panoramic views of beautiful snow-capped mountains (Humantay; 4120m/13500ft and Salkantay; 6271m/20575ft.  Further ascent to Soraypamapa with beautiful scenery on the way.
Difficulty level:
Hard
Meals:
Lunch at Cruzpata.  Dinner at the campsite.
Accomodation: 
Camping in tents at Soraypamapa 4200m/13750ft. This places is the highest and coldest campsite of our trek.
Start time: 
5:00 AM
Travel: 
Trekking all day
Highlights of the day:
Ascent to the highest pass on the trek 4650m/13500ft between Salkantay mountain on the right and Tucarhuay on the left with amazing views. The mountains are snow capped and there is a possibility of snow at this height. Descend through the dramatic scenery of the cloud forest towards Huayracpunku and the start of the jungle.
Difficulty level:  
Very hard
Meals: 
Breakfast at the campsite, lunch at Huayracpunku and dinner at the campsite in the evening.
Accomodation: 
Camping in tents at Colcapampa 3000m/9800ft.
Other information: 
Horses and mules for rent available this day. They will carry you in case this day becomes too difficult for you.
Start time: 
6:30 AM
Highlights of the day:
Hike through the upper jungle crossing the Lluskamayo River and many other creeks all the way down to La Playa. The scenery is varied as we pass waterfalls and see many tropical fruits and plants.  After arriving at Saint Teresa we will visit the hot springs for a relaxing evening.
Difficulty level: 
Moderate
Meals: 
Breakfast at the campsite, lunch at La Playa and dinner at the campsite in the evening.
Accomodation: 
Camping in tents at Saint Teresa 1500m/4905ft.
Other information: 
Hotels are available in Santa teresa at an extra $30.
Start time: 
8:00 AM
Travel:
By foot, all day trekking. Optional train from hydroelectric station to Aguas Calientes.
Highlights of the day:
After crossing the Saint Teresa bridge and following the Urubamba river up the stream, we pass by many plantations of coca leaves and banana trees until we reach the hydroelectric station. From here we pass by the Machu Picchu and Huayna Picchu mountains until we reach Aguas Calientes.
Difficulty level:
Moderate
Meals:
Breakfast at the campsite, lunch on the trek and dinner at the hotel in Aguas Calientes.
Accomodation: 
Hotel in Aguas Calientes
Other information: 
There are thermal springs at Aguas Calientes (10 soles) that you can visit in the evening.
Start time:
5:00 AM
Travel: 
Bus to Machu Picchu
Highlights of the day: 
A walking tour (2 hours) of Machu Picchu with your guide.  Optional climb of Huayna Picchu 2720m/8923ft. It takes 45 minutes to reach the top.
Difficulty level: 
Moderate
Meals: 
Breakfast in the hotel at Aguas Calientes. Lunch in Aguas Calientes (not included)
Accomodation: 
You will be back in Cusco to your own accommodation for this evening.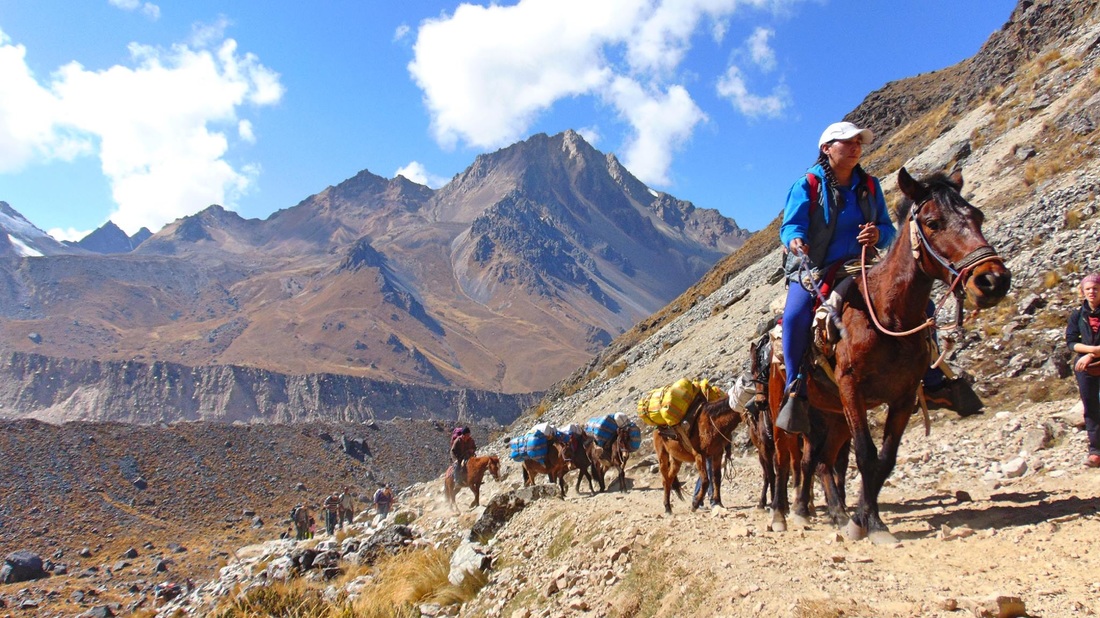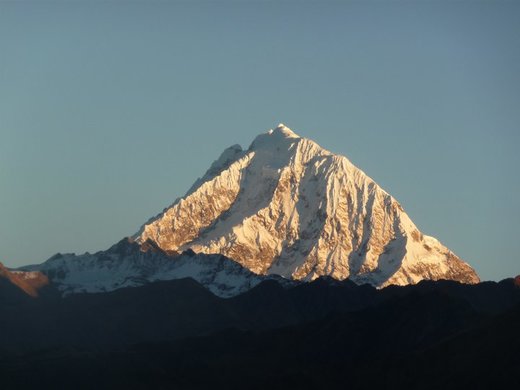 The Salkantay Trek goes from March through December. We DON'T do this trek in January or February.
Our tours are based on the number of people in a group.
Priced per person:​
Two trekkers:

 

$1050

Three trekkers:

 

$900

Four or more Trekkers

$790
Student Discount:$25 off per person
Student discounts applies to students holding a valid Green ISIC card. Children under 16 qualify for student discount. Please send all to info evolutiontreksperu@gmail.com
You will be given your train tickets by your guide. The train usually leaves about 2:55 pm and arrives back in Cusco at 7:45 pm, although this may be subject to change.  You can opt to have an extra night in Aguas Calientes to explore Machu Picchu further and visit the thermal springs in Aguas Calientes.
**Train included in all tours is the Cerrojo backpacker (to Ollanta) Train times will only be confirmed once full amount of tour is paid. The earliest train you could take is the  13:37pm and  being the 9:20pm the last train. Evolution Treks Peru will organize the transport back to Cusco (by taxi or by bus).
Please Note: train times are subject to change depending on Peru rail timestable and availability. If organized in advance, the train can be upgraded to Vistadome (larger windows than the backpaker cerrojo train) for an increased price.
Original passport (and *International Student card (ISIC) if applicable)

Travel Insurance is essential
Sleeping bag (not included but can be hired from us)
Walking boots
Waterproof jacket/rain poncho
Warm jacket
Hat and gloves
T-shirts
Comfortable trousers
Sun hat
Sun protection cream (factor 35 recommended)
Insect repellent
Water (only until lunch time on day 1)
Toiletries and hand sanitizer.
Personal medication
Camera 
Torch with spare batteries (headlamps are useful) 
Hire of sleeping bag (5 seasons) – 

$50 

Walking sticks (pair) – $20 
Inflatable mattress – 

$40 

Camping pillow

$20
Rent  our TREKKING COMFORT PACKAGE (all of the    items   above) for   only   $100 USD

Full porter (up to 14kg or 30lb can be shared between 2 people)*** – $220
Half porter (up to 7kg or 15lb)

***

 –

 $120

If you require an extra porter or a half porter, please advise us when filling in booking form.
Single tent  supplement – $55
Shorts

Walking stick (with rubber tip)

Plasters and bandages

Sandals

Extra money

Bathing suit (for hot springs in Aguas Calientes)
By accessing and/or using this code snippet, you agree to AccuWeather's terms and conditions (in English) which can be found at https://www.accuweather.com/en/free-weather-widgets/terms and AccuWeather's Privacy Statement (in English) which can be found at https://www.accuweather.com/en/privacy.-->