The Sacred Valley + Machu Picchu tour is the best combination of tours on the way to Machu Picchu
PRICE FROM
*Based on number of participants.
Duration: 2 days / 1 night

​Places to visit:

Cochahuasi Animal Sanctuary

PIsaq Market

Pisaq Arqueological site

Inkarri Museum Calca

Ollantaytambo Arqueological Site

Guided tour of Machu Picchu
Tour starts at 8:00 AM. We will pick you up from the hotel and take you on this epic adventure. Our first stop will be the Cristo Blanco mirador (Cusco's lookout). From this place we will have a breathtaking view of the beautiful city of Cusco. Then we will continue toward the Cochahuasi Animal Sanctuary. This place is a shelter for animals who have been victims of the illicit animal trade and heartless poachers. Some of these animals will be reintroduce to their native ecosystems after their rehabilitation. In this place You will see a wide number of local animal species ranging from the many kinds of Andean camels such as the Llamas, Alpacas, Guanacos, Vicunas. Also we will see Pumas, the famous Andean Condor and the only kind of bear of Sudamerica, the spectacle bear or "Paddington bear".
After the Sanctuary we will visit Pisaq arqueological site. This is massive inca city build in the sacred valley. As we continue toward our destination at Olllantaytambo, we will have a stop at the Inkarry Museum of Calca. In this place our guides will explain us the origins of the Andean Cultures, the oldest civilizations of the Americas and the world. This is a one of a kind experience.
After the museum we will have our mandatory lunch break at Urubamba. In this place we will go to an "All you can eat" Peruvian-Andean buffet restaurant. Here we will enjoy the best of the peruvian food. From Urubamba we will continue for another 30 minutes toward the beautiful incan city of Ollantaytambo. Here we will explore the enigmatic ruins of Ollantaytambo. Our guides will continue giving us small lectures on the Incan civilization.
​After visiting Ollantaytambo, we will walk to the Ollantaytambo town. In this small ancient Incan city we will have a well deserve break and dinner before we catch our train to Aguas Calientes. The trains usually depart at 8:00 PM. The train ride from Ollantaytambo to Aguas Calientes takes 2 hours. At Aguas Clients we will go to our hotel where we will spend the night.
Our day starts at 4:30 in the morning. We will go to the bus station where we will catch the bus to Machupichu National Sanctuary . The bus ride takes 30 minutes. The first bus depart at 5:30 AM. Our departure time will depend of how early we make it to the bus station. Please allow an hour or so of waiting time before we catch our bus.
At Machupicchu we will go on a tour around this wonder of the world. The tour usually takes 2 +hours. After the tour, Our guide will direct us to the location access point to the Wayna picchu mountain and the MAchupicchu mountain. The climb to those mountains take between 2 and 3.5 hours. Also, our guide will give you the train tickets for Cusco.
​The trip to Cusco takes 4 hours. The first part by train to Ollantaytambo takes two hours, and the second part takes two hours too. A bus will pick us up from Ollantaytambo and take us back to Cusco. The Time of arrival to Cusco depends of the time of departure from Aguas Calientes. Usually people arrive back to Cusco at 8:00PM. We will confirm the arrival time once you make your final payment.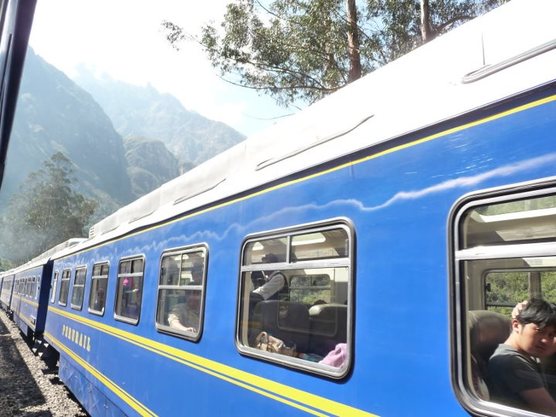 What's Included
Profesional Tour guide

3 star hotel in Aguas Calientes

All Transportation: Bus to Sacred Valley, Ollantaytambo – Machupicchu – Ollantaytambo train (expedition class) 

Upgrades to the Vistadome are available for $75 per person, one way, or $100 per person, round-trip.

   

Bus Aguas Calientes – Machupicchu – Aguas Calientes. Bus from Ollantaytambo to Cusco.   

Meals. Lunch and dinner on day one, breakfast   on day two.

Entrance tickets to all attractions. 
Not Included:

Lunch on day two

Gratuities, tips, etc.

Alcoholic beverages on meals.

Huayna Picchu tickets.   

Entrance tickets to Machupicchu and Huaynapicchu mountains are offered based on avai

lability.   

Evolution Treks Peru does not   guarantee the purchase of these tickets.
What you need to take: 
Original Passport (make sure  to bring the immigration form too) 
ISIC card (best to qualify for a discount)
Waterproof jacket / rain poncho
Hiking boots (If you plan to climb any of the surrounding mountains)
Warm jacket
T-shirts
Comfortable Trousers
Sun hat
Sun cream (factor 35 or higher)
Insect repellant
Personal medication
Camera and film
Money (Peruvian soles and coins )
Water (make sure you stay hydrated, take at least 2 litter of water if you plan to climb the surrounding mountains)
Snacks 
RECOMENDATIONS:
Tipping are always appreciated and should be based completely on your satisfaction. Although it may not be customary to you, it is of considerable significance to the people who will take care of you during your travels.
| | |
| --- | --- |
| Number of participants | Price |
| One person | 800USD |
| Two to three people  | 650USD |
| More than four people  | 580USD |