The Six day Salkantay Trek is by far one of the best hikes to Machu Picchu.
​Not an easy hike but one of the best.
Trek Details:
Hike Distance:  75Km/46.6 Miles
Difficulty:​ Hard
Duration: 6    days/5    nights
Highest point: Inka Chirisaska pass 5000 meters/16402 ft
Elevation Gain: 2100 meters, 6600 ft.
Weather: See below
Seasons: All year round. 
Hike Trail Map:  See below
Cusco Drive Time to the starting point:  3hr 15min+
Town Nearest Hike:   Mollepata 
Beauty:   Paramo, Puna, Glacier lakes, Vilcabamba mountain range views, scenic trail, Grassland area, local villages, wildlife: prairie horses and dogs, Vizcachas and  Andean foxes, Spectacled bear, Dwarfed deer. Birds; Condor, torrent tyranulett, Black-chested Buzzard-eagle, Chiguanco thrush, hummingbirds.
Activities: Hiking trail, archaeological site tours, nature and Andean community visits.​
Prices from:

  $1200 USD Per Person (Based on group size)
INCLUDES:
Professional, bilingual Tour Guide
​Double visit to Machu Picchu . New    Addition for 2019!!!   More bang for your buck.
Collection from hotel
Return transportation (bus to start of trail and tourist train back to Ollanta)**
Entrance fee to Machu Picchu
3 one way bus tickets up to Machu Picchu and Aguas Calientes.
6 breakfasts, 6  lunches, 6 afternoon snacks  and 6    dinners (breakfast on day 1 and dinner and lunch in Aguas Calientes town are not included).  
Dining tent with tables and chairs
Cook
2-people tents
Sleeping mattresses
Horseman and mules (to carry cooking and camping equipment )
1 night accommodation in hotel in Aguas Calientes
Extra oxygen
First Aid kit
Vegetarian/special diet options available upon request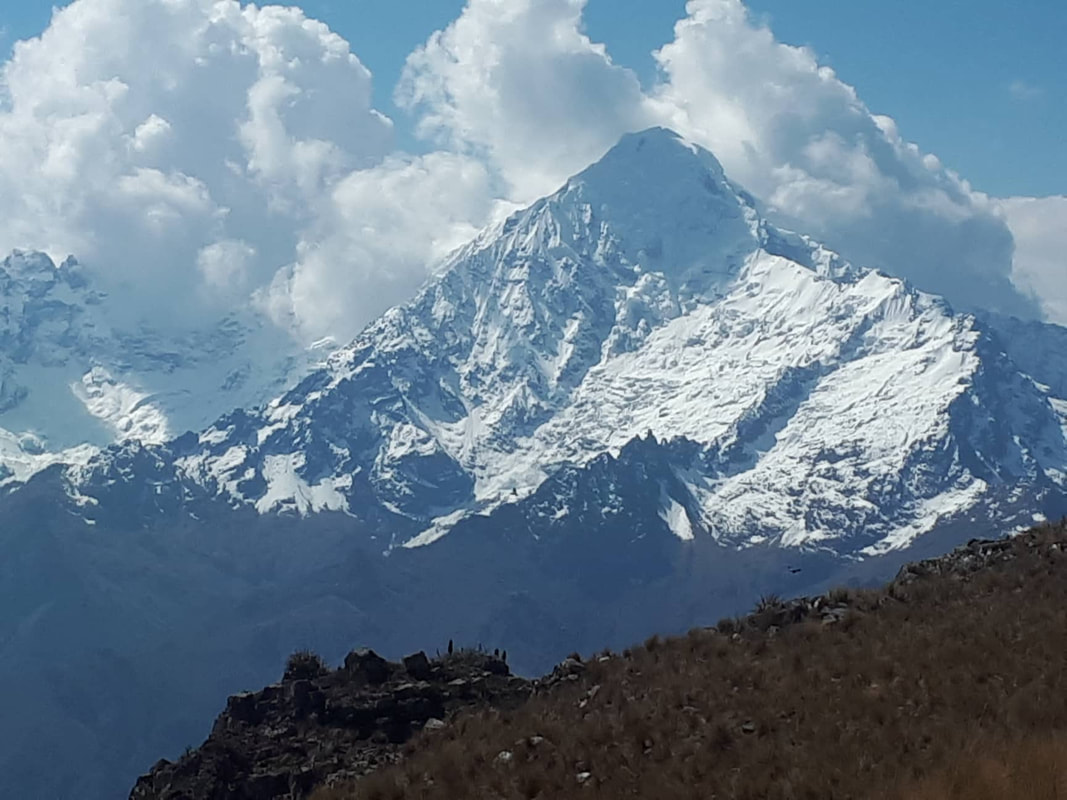 Day 1: Cusco – Soraypampa – Humantay lake – Salkantaypampa
​
Today is a  day  of moderate difficulty hiking to help us ease into the trek. We pick you up at 4 am from your hotel and take you on a 4 .5 hour bus ride to Soraypampa. After packing up all that we need for the day, we'll begin our trek to the  Humantay Lake. The hike to the lake takes about  4 hours covering a distance of about 4 miles. This part of the day will signify our training for what is to come in the following days. After we reach the lake and enjoy the stunning beauty of this place, we will return for lunch to Soraypampa.  In the afternoon, we will continue our hike to Salkantaypampa 4200m where we will be camping in an "off the beaten path" area, surrounded by the most fantastic views of the snow-capped peak Salkantay 6276m.  It is worth mentioning that hardly anyone camps here, so we will be able to enjoy this beautiful spot in complete peace and tranquility.
Day 2: Salkantaypampa – Incachiriaska – Pampacahuana
From this point on we will be hiking on the "off the beaten path" area of the Salkantay Trek, while everyone else will be heading to Santa . Teresa, our trail will lead us to the Inca Trail. Climbing up the valley towards Salkantay Mountain we take a side path that leads us up and over the Incachiriaska Pass (Frozen Inca Pass, 5158m / 16495 ft.) which is the highest point on the trek.  This part of our itinerary will be the most challenging one in terms of the difficulty of the hike and the altitude we have to gain, but our expert guides will make sure you succeed at reaching the mountain pass.
The views in this alpine area are once again amazing.  The immensity of the Salkantay mountain makes you feel entirely dwarfed by the sheer size of this peak.  There you can get a sense of why the Inca's worshipped it as a god. The whole area is adorned with small mountain lakes of varying hues and colors, with a bit of luck, we will hopefully see a variety of the Andean wildlife such as Viscachas (rabbit-like Chinchillas) and the White-Tailed Deer and perhaps even some Andean Condors, Guanacos and Vicunas. From the mountain pass, we will carry on down for about 2 hours till we reach our lunch place and from there another two more hours until we get to the small community of Pampacawana (4000m / 13123 ft.) where we will camp for the night.
Day 3 : Pampacahuana – Paucarcancha –   Llulluchapampa
Early in the morning we will leave our campsite at Pampacawana and make our way down the valley to join the Inca Trail at Wayllabamba. Along the way, we will visit many Incas sites that correspond to the greater Inca trail system, such as 'Paucarcancha, and Wayllabamba,  Our guides will make sure you explore these ancient sites and give you the proper historical and archaeological information about them.  Our goal for the day is to check in with the Machu Picchu park rangers and enter officially into the NAtional Sanctuary of Machu Picchu. Our Campiste for the day is Ayapata.
Day 4 :  Llulluchapampa- Phuyupatamarca
​This is a challenging day for us. We will keep climbing the mountain towards the Abra de Huarmihuañusca/'Dead Woman's Pass' 4200m/13779ft. The views from here are simply amazing. Once we get to the the highest point and we take the mandatory pictures, we will proceed to go downhill for about 2.5 hours, toward Pacayamayo, our lunch spot. After we reach this place and we have  a good day resting we will continue the hike  in the afgternoon. 
 In the second part of this day, we will climb the second mountain pass of the inca trail. Along the way, we will visit the unique incan sites of Runcuracay' and  'Sayacmarca' and gaze at the magnificient scenery as you pass through the lovely cloud forest. Our campsite will be located right outside the Inca site of 'Phuyupatamarca' (meaning 'Town in the Clouds').
Day 5 : Phuyupatamarca – Machu Picchu
Early in the morning before breakfast we will go on a short climb toward the Incan religious center called "Ushnu" to observe the sunrise. It is here we will be served hot chocolate and sandwiches for breakfast. After we pack our things we will head downhill toward Machu Picchu and the Sun Gate. The trail in this part is quite steep and full of steps, the altitude loss will be quite dramatic as we will be dropping almost 1000m/3000ft in altitude. Along the way we will visit the Incan sites of Phuyupatmarca, Intipata and Winaywayna. This last place is perhaps one of the most beautiful sites of the whole Incan trail. After lunch we will head toward Intipunku and Machupicchu. Our goal is to reach Machu Picchu right before sunset and the closing time for Machu Picchu. Once Machu Picchu is closed we will take a 30 minute bus ride toward Aguas Calientes where we will spend the night.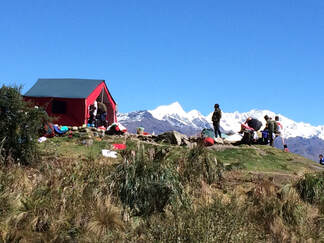 Day 6 :Machu Picchu Tour and Return to Cusco.

We will wake up early in the morning to catch one of the first buses to Machu Picchu. Once in Machu Picchu we will go on a 3 hour tour of this beautiful Incan site. Our guides will explain the history of this site part by part. After the tour has concluded, people will go on their alternative adventures toward the Huayna Picchu and Machu Picchu mountains respectively.  In the afternoon, we will catch our train back to Cusco.
Original passport
Travel Insurance is essential
Sleeping bag (can be hired from us)
Walking boots
Waterproof jacket/rain poncho
Warm jacket
Hat and gloves
T-shirts
Comfortable trousers
Sun hat
Sun protection cream (factor 35 recommended)
Insect repellent
Water (only until lunch time on day 1)
Toiletries and   

hand sanitizer.

Personal medication
Camera
Torch with spare batteries (headlamps are useful) 
Optional items to take:
Shorts.
Walking stick (with rubber tip – can be hired from us).
Plasters and bandages.
Sandals.
Extra money.
Bathing suit (for hot springs in Aguas Calientes).
Optional services NOT INCLUDED:
Hire of sleeping bag  (4    seasons) – 

$60 

Walking stick x 2 (single)  – $ 30 
Inflatable trekking sleeping pad  (Therm a Rest)  – 

$45 

Camping   Pillow (therm a  rest)   

$30 
Rent  our TREKKING COMFORT PACKAGE (all of the    items   above) for   only   $120 USD
​
Full porter (up to 14kg or 30 pounds.  It can be shared between 2 people)*** – $250
Half porter (up to 7 kg or 15 pounds)   $130
If you require an extra porter  or a half porter, please advise us when filling in booking form.
Single tent  supplement – $75
​ ​
***NOTE: Total weight  includes sleeping bag and pads  (Sleeping bags and pads weight approx. 3kg) 
IMPORTANT:   Some of the reasons  that our price may be higher than that of other agencies are the following:
We ALWAYS book the maximum number of porters possible (according to Inca Trail regulations) so that our porters are not overloaded.
We are the only tour operators hiring women to work as porters on the Inca Trail. We believe that THERE IS NO such thing as SUSTAINABILITY without women Inclusion .
Also, We are the only travel operator in Peru that supplies porters with proper tents, sleeping pads and adequate food for this type of activity.
Beware of this when booking they might be cheaper because of this!
2 people (minimum group size) should have a maximum of 5 porters and 16 people (max group size) should have 22 porters.

** Tips    for porters, cooks or guides are optional and  are NOT  included in our    price. However our advice is that you tip our staff based on their performance, service and knowledge. Our guidelines for tipping our staff is the following:

Each porter gets   100 Soles, each assistant cook 150 Soles, the Main Chef gets 300 Soles.

Assistant Tour guides can be tipped collectively by the members of the group, we suggest a 5% of the total cost of the tour.  

Main guides are tipped on a one on one basis and based on their performance.   Tour guides are professional people who spend a lot of time training in different other fields such archaelogy, history and WFA. We suggest people to consider tipping our guide a 10% to 15% of the value of your tour.
Train included  in all tours is the  Expedition train (to Ollanta). Train times will only be confirmed once full amount of tour is paid. The earliest train you could take is the 2:55 PM and the 9:20 PM being the last train (high season June to September). We will organize the transport back to Cusco (by taxi or by bus).
| | |
| --- | --- |
| | |
| One person | $2400 |
| Two to three people | $1800 |
| Four or more people | $1400 |