The Santa Catalina Monastery is a colonial construction located in Arequipa, Peru, covering an area of 20,000 square meters. The site was founded by Viceroy Francisco Toledo, who granted licenses for the foundation of the "Monasterio de Monjas Privado de la Orden de Santa Catalina de Siena" (Private Nuns' Monastery of the Order of Saint Catherine of Siena) after being informed by the town council of their desire to establish a monastery of nuns.
Years later, Doña María de Guzmán decided to seclude herself in the MonasteryMonastery under construction and ceded all her goods. The Convent of Santa Catalina was shrouded in mystery and silence until 1970 when a large part of the convent opened its doors to the public, and nuns still live in the northern area of the complex.
The charm of this citadel lies in the solidity and plasticity of its volumes and the beauty that master builders and architects achieved in the architecture of these enclosures through solutions such as flying buttresses or the construction of sturdy arches set on pillars. The Monastery'sMonastery's interior treasures splendid pieces of art, such as a baroque altar of carved and gilded wood and several paintings of the Cuzco school.
Due to constant earthquakes, the nuns' families chose to build unique and private cells for each of them, resulting in orderly and disorderly sectors. It has been largely restored to make it more attractive to the public while preserving its original floor plan and features. 
The Monastery of Santa Catalina is marked by a relief of Saint Catherine of Siena at the entrance doorway, contrasting with its colorful interior. Also, the Patio del Silencio was where nuns prayed and read in silence, while the Cloister de Los Naranjos owes its name to the orange trees located in it.
In addition, the Major Cloister has five confessionals for privacy and 32 paintings related to Mary and Jesus' life around it. Moreover, its kitchen stands out due to its high domed ceiling that may have been used as a chapel originally; meanwhile, the Laundry features 20 tinajas which were large earthenware vessels formerly used for storage.
Furthermore, Bell Tower includes four bells facing surrounding streets – one without inscription from the east side; the oldest bell inscribed "Santa Catalina Ora Pronobis" from the south side; another bell inscribed "R.M María de Villegas" on the west side – plus an embossed silver main altar inside Church representing delicate religious motifs artistry with rooms dedicated to Blessed Sister Ana Monteagudo's Cloister near upper choir loft featuring European organ artistry too. 
The Santa Catalina Monastery, Arequipa's main tourist attraction, was the first museum to open its doors after the economic reactivation of the sector. 39,000 tourists visited Santa Catalina in 2020 compared to 250,000 visitors in 2019. So far this year, more than 7700 people have shown interest in visiting the religious precinct.
Equally important, 80% of these tourists are local and national visitors from Lima primarily; however, nothing has changed with regards to tour experiences offered by Santa Catalina, which was built back in 1579 and offered an hour-and-a-half long tranquil walk through its streets and religious environments for a fee ranging between 25 – 45 soles depending on age group & nationality.
Furthermore. tourists can also avail of various tours that include city sightseeing and Santa Catalina, such as Arequipa City Tour (3 hours 30 minutes) or Private Tours (2 hours 5 minutes). These services may vary according to the chosen agency but generally includes the Cathedral of Arequipa, Yanahuara viewpoint, and Church of Company Jesus & Monastery.
What is the history of Santa Catalina Monastery?
Founded in 1579, the Monastery of Santa Catalina has a rich history that began during a visit to Arequipa by Viceroy Francisco Toledo. Donated land and given great economic aid were provided for its foundation by Doña María de Guzmán, who then became known as the "Primera Pobladora y Priora del Convento de Santa Catalina". This illustrious MonasteryMonastery stands today proudly representing centuries of devotion and religious dedication.
The captivating story of the Santa Rosa Monastery started in its first years when it welcomed Creole girls, mestizos, and daughters of wealthy curacas (local aboriginal chiefs). Even though several earthquakes have shaken the building throughout history, surprisingly enough, this historical place has remained largely intact to this day.
During its prosperous 18th-century peak, some 400 women were sheltered under these roofing tiles' protection at once! On June 13, 1747, a new chapter began as four nuns from neighboring Santa Catalina founded another religious community within an even more iconic monastery – one that still stands proud today.
After two centuries of seclusion, the Monastery of Santa Catalina opened its doors to the public in 1970. Once a luxurious place for nuns with strict rules and regulations, it has since changed into an era of austerity – where prayers are said quietly, and poverty is now taken on as a vow by its inhabitants.
Nowadays, this historic site boasts one of Arequipa's most popular attractions;. However, tourists can explore some parts freely within set visiting hours; only twenty devoted souls call this holy space home – so respect must be given to their privacy at all times.
Where does the name of the Monastery of Santa Catalina come from?
Catherine of Siena is the saint to whom this convent is dedicated. Here, silence has found its voice in the vivid colors of the convent walls and the cobblestone corridors that converge in a beautiful square.
The convent is a citadel of women dedicated to prayer, charity, and the preparation of delicious desserts to tempt the palate; Santa Catalina is more than a convent; it is a melting pot of secrets that visitors only glimpse as they walk through its buildings; secrets that will remain forever within its walls.
How old is the Monastery of Santa Catalina?
The MonasteryMonastery is more than 400 years old. It was founded in 1579 and continues to house nuns in retreat. 
What was the purpose of the Monastery of Santa Catalina for the civilization that built it?
The history of this emblematic MonasteryMonastery is strictly related to the Catholic Church. It was built, in the center of the city of Arequipa, to house the cloistered nuns of the old Dominican Order.
What was the culture and life like within the Santa Catalina Monastery?
The Monastery of Santa Catalina of Arequipa was a place of refuge and peace in 16th-century Peru. It was a walled-in city within the city, with its own streets, plazas, and marketplaces—and for centuries, it remained a world apart. Founded in 1579 by a Spanish noblewoman, Doña Maria de Guzman, the MonasteryMonastery was home to hundreds of cloistered nuns who dedicated their lives to prayer and service.
They lived in cells no larger than 12 feet by 11 feet, wore simple brown habits, and kept silent most of the time. The walls were two stories high and connected by narrow passageways patrolled by guards 24 hours a day so that no one could enter or leave without permission from the main abbess. The nuns followed a strict schedule each day that began before sunrise with prayer, Mass, work in the gardens, and other tasks necessary for daily life within the MonasteryMonastery.
They also studied music, read scripture, and practiced embroidery to adorn the altar cloths and vestments used during Mass. Meals were simple but nutritious: bread, potatoes, beans, and fruits as well as small amounts of fish or chicken when available. Although they did not go out into town often (if ever), they received goods brought to them through an opening in the wall called "the post hole" which allowed them to remain secluded while still receiving essential supplies from outside vendors.
Life at Santa Catalina was hard yet peaceful; although some nuns may have longed for more freedom than life within the monastery walls allowed them, many considered it a safe haven—a place where faith flourished despite their circumstances at hand.
What are the theories about the origin of the Monastery of Santa Catalina?
Below are a few theories that can trace the origins of the Monastery of Santa Catalina to the second part of the 16th century. 
First, Inspired by the faith and devotion of Saint Catherine of Siena, a group of nuns sought to found The Monastery as early as 1559. After two decades devoted to planning and construction with backing from Viceroy Francisco de Tolero, Don Juan de la Torre led their efforts in bringing this little slice haven into existence on September 10th1579.
Second, In the mid-sixteenth century, Viceroy Francisco de Toledo had a vision for Arequipa centered around faith: He granted licenses to build the "Private Monastery of Nuns of the Order of Saint Catherine of Siena" – and Doña María Guzmán soon made it her calling. Amidst construction in 1579, she donated all her goods and took on roles as the first inhabitant and prioress at this sacred place. Thus began an era that would forever shape religious life in Peru's 'beautiful city.'
What are the myths about the Monastery of Santa Catalina?
Only one myth about the Monastery of Santa Catalina is known. The myth narrates that Sister Ana de los Ángeles contributed remarkably to the Monastery of Santa Catalina, having been part of its community since she was three.
Her life is highlighted through multiple miracles attributed to her – including 68 predictions that all proved accurate. Despite losing her sight in later years, Sister Aná faced this adversity with courage and perseverance, making their dedication an admirable example for others struggling with similar situations or faith-related struggles. As such, Sister Ana has become one of the most renowned nuns known throughout the convent's history.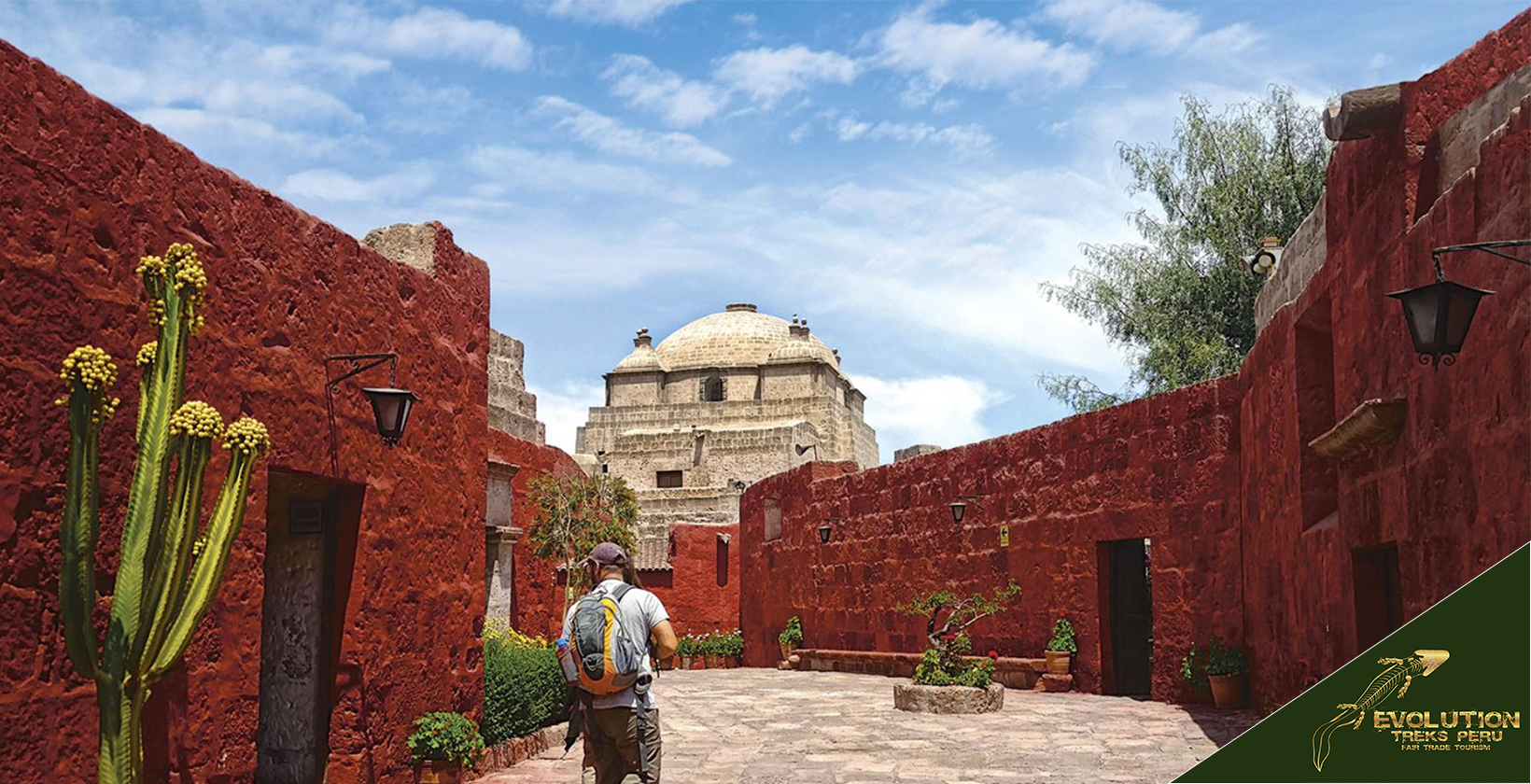 Where is the Monastery of Santa Catalina located?
The Santa Catalina Monastery is located only 600 meters from the Plaza de Armas, at 301 Santa Catalina Street, in the city's historic center.
What are the coordinates of Santa Catalina Monastery?
The coordinates of Santa Catalina Monastery are:
Latitude: S 5° 59′ 28.75″.
Longitude: W 76° 58′ 6.53″.
These geographical points will allow the location of Santa Catalina in map applications or even in GPS, where the coordinates can be entered manually. 
Usually, these tools or devices request longitude and altitude in decimal degree values. 
Therefore, if you want to know the geographic coordinates of Santa Catalina in decimal degrees, these are:
Latitude: -76.9684800
Longitude: -5.9913200
What is the map of Santa Catalina Monastery like?
Below is a map of the Monastery of Santa Catalina.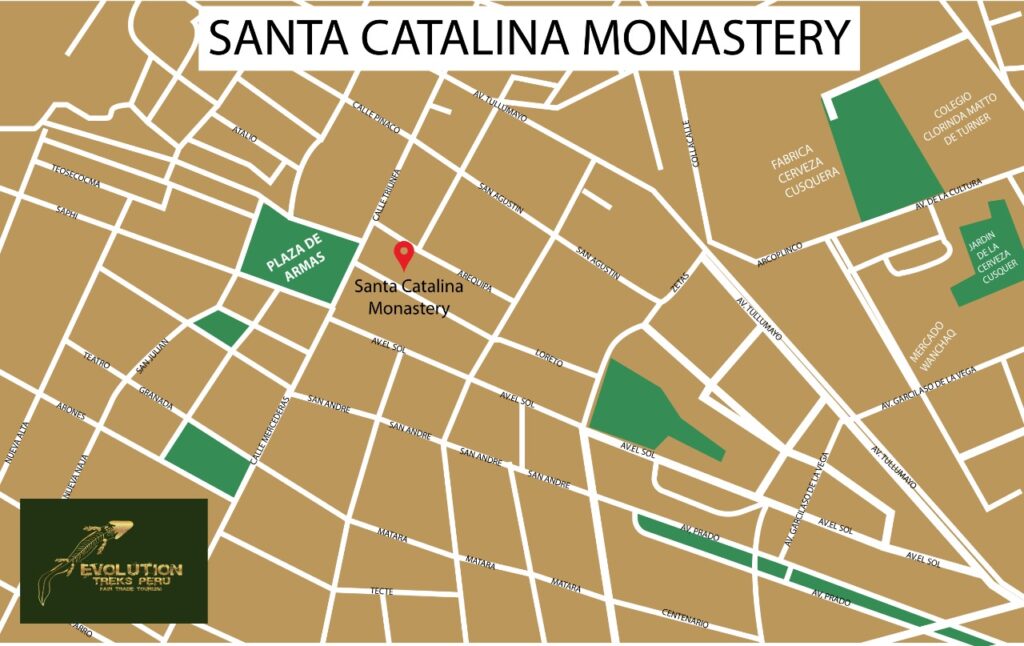 What is the geography of the Monastery of Santa Catalina like?
The Monastery of Santa Catalina. Spanning an impressive 20,000 square meters and comprised of countless winding streets and passageways leading to its central square is this colonial citadel that welcomes visitors from near and far alike. Its interior offers varying rooms fashioned according to each nun's social standing as well as workshops tucked away within their enclosures – not to mention other attractions such as secluded gardens filled with orange trees or bell towers.
How many square meters does the Monastery of Santa Catalina have?
The Monastery of Santa Catalina covers an area of 20,000 square meters, most of which is currently a tourist attraction.
What is the best time to visit the Monastery of Santa Catalina?
Sunny May through September is the best time if you're looking to explore the delights of Arequipa and Santa Catalina Monastery; however, if it's a quieter trip that you seek, opt for April or October – when sights can be enjoyed at their fullest without hordes of tourists! To make sure you get the most out of this stunning resort, arrive early; beat both heat and other visitors alike by being one step ahead with your sightseeing plans.
What is the climate like at Santa Catalina Monastery?
The weather tends to change throughout the day in Arequipa, and temperatures can go from near freezing to hot in a matter of hours, and rain is possible at any time of the year. Bring layers of clothing that are easy to take off and put on depending on changing conditions. It is also a good idea to bring a light raincoat and a windbreaker.
Where to stay at Santa Catalina Monastery?
You will be fine finding a room in the surrounding areas of the Monastery of Santa Catalina. Arequipa has plenty to offer and something for all types of travelers. Whether you're looking for budget-friendly accommodations or luxurious havens, numerous choices are available.
Holidays Hostel Arequipa offers comfortable rooms at an affordable price point; Casa de Avilas provides easy access to the main square plus peaceful gardens, while those seeking more indulgent experiences can stay at Casa Andina Premiums. No matter where you decide to lay your head after exploring Santa Catalina Monastery's historic sites, rest assured that booking ahead will guarantee a stress-free trip.
What are the tours to visit the Monastery of Santa Catalina?
Below are the tours of the Monastery of Santa Catalina.
For those seeking a unique sightseeing experience, several tour options are available for visitors wishing to explore this incredible place. The most popular tour is the four-hour guided walking tour that takes you through the Monastery'sMonastery's maze-like pathways, allowing you to explore some of its rich history and beautiful architecture.
This tour begins at the main entrance and goes through many rooms and courtyards, including La Merced Church, cloister galleries, and nature trails surrounding the site. Additionally, you will visit some museums containing artifacts that highlight its culture and heritage. This tour is recommended for families and elders; the average cost is between 10 and 12 USD per person for group tours and up to 20 USD for private tours. 
The more adventurous traveler may want to take part in an off-the-beaten-path exploration, which entails climbing up a steep staircase leading to San Ignacio Church or taking a quick detour down El New Camino Real for breathtaking views of Arequipa Valley from atop its walls. This exclusive two-hour route allows travelers to have a private audience with nuns who provide insight into their daily lives on-premises and access to private rooms containing sacred artifacts normally closed off from public viewing.
This tour is not recommended for families and elders as t is fast-paced and demands a bit of good physical fitness. The average cost is between 20 and 25 USD per person for private groups. These private tours are also available for those looking for something more intimate and personal; these usually involve customizing stops along various points around the Monastery while having expert guides explain its history. Travelers can purchase souvenirs from artisanal stores within the premises during their journey.
What are the closest destinations to Santa Catalina Monastery?
The closest destinations to the Santa Catalina Monastery in the city of Arequipa are the following:
Museum of the Andean Sanctuaries of Arequipa
The museum of the Andean Sanctuaries of Arequipa is one of the most famous in Peru because it houses the remains of the famous "Juanita mummy," an Inca girl sacrificed in the high snowy mountains of the region during the rule of Emperor Pachacutec. The Universidad Católica Santa María manages the museum.
The exhibits also contain textiles, ceramics, and sculptures used during Inca human sacrifice ceremonies (Capacocha ritual). Entrance to the museum costs 15 soles per adult tourist.
The founder's mansion. As its name indicates, it belonged to the founder of Arequipa, lieutenant governor Garci Manuel de Carbajal. It was built 20 kilometers from the city's center, near the Socabaya River.
The mansion has many characteristics of baroque architecture. Its dining room, bedroom and gardens, canvases, furnishings, and small chapel are striking. After three centuries, the place deteriorated until 1981, when it was restored to allow the public to enter.
Santa Teresa Museum of Viceroyal Art
The Museo de Arte Virreinal de Santa Teresa is a cultural landmark in Monasterio de las Carmelitas Descalzas de San José in Arequipa. This museum houses centuries of history, with collections ranging from splendid architecture and artwork to gold and silver objects from various donations. In addition to its permanent exhibits, it also presents traveling exhibitions for more variety. Be sure to take advantage of this powerful center of culture!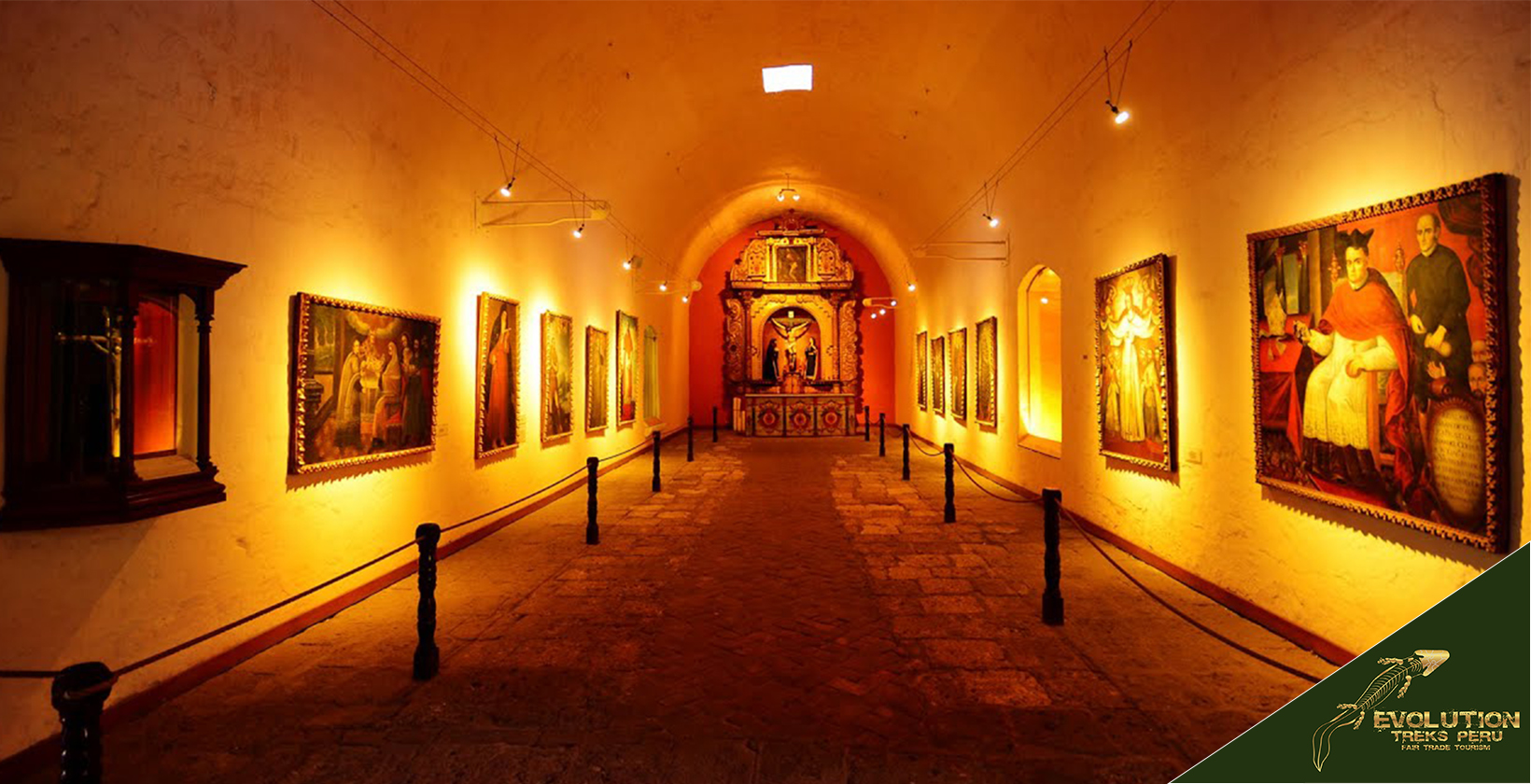 How to get from Cusco to Santa Catalina Monastery?
Traveling from the Santa Catalina Monastery in Arequipa to Cusco can be done by bus, plane, or rental car. Taking a bus is the most popular option and takes 10-11 hours. Buses are modern and well-equipped with air conditioning, toilets, televisions, and reclining seats for comfort during the night trip. Prices range from $19 to $40, depending on the company chosen.
Flying is quicker at 1 hour but more expensive than other options; several airlines offer reliable services directly between Arequipa and Cusco at varying prices depending on the seasonality of tickets purchased in advance. A private transfer is available at any time for those looking for ease during this long journey; it will facilitate the arrival in Cuzco though it may be more expensive than other options due to its convenience factor.
Driving with a rental car allows travelers flexibility as they travel independently but must provide all necessary documents before embarking on their 9-hour road trip adventure through Peru's beautiful landscape.
 Lastly, taking the train via Puno offers an enjoyable 40-hour, 58-minute scenic route once per week; however, costs tend to be higher when compared with other modes of transportation provided here
What do I need to know before going to Santa Catalina Monastery?
Below is the list of things people should know before visiting the Santa Catalina Monastery. 
All visitors must wear masks covering their noses and mouth at all times.

 All groups are limited to eight people, including a tour guide

 Explore the MonasteryMonastery following signs that will ensure social distancing with only two persons allowed in each small cell room during your visit.

Wheelchairs can be requested from staff if needed. 

Reap additional benefits by contracting an official independent guide's services or take advantage of free wifi available throughout the site duration. 

Remember to wear comfortable shoes – it will involve some walking around.
What is the itinerary of the Monastery of Santa Catalina like?
Visitors to the Monastery of Santa Catalina can explore the grounds with or without a guide. The following is the itinerary people should follow. 
Start visiting the main cloisters; there are three of them: the Novices' Cloister, Orange Cloister, and Great Cloister. Then, continue to the Church, Bell Tower, Pinacoteca, Laundry, and Kitchen. The Church is characterized by its orange lower and white upper parts, while visitors can climb up the bell tower for views of both cityscape and the Misti volcano. 
Before you finish, proceed to the Pinacoteca. Inside, there are different works of art from the Peruvian Viceroyalty era on display, while in the kitchen, ancient instruments used for cooking have been preserved over the years.
How much does it cost to visit the Santa Catalina Monastery?
The entrance fee to the Monastery of Santa Catalina for Peruvian citizens is 40 soles per person. Adults over 60 years old pay 20 soles., andPeruvian university students pay 12 soles. Schoolchildren pay six soles.
For foreign citizens, the entrance fee for adults is 45 soles and for children and young people from 7 to 21 years old is 25 soles. 
There is a promotional day for Peruvians (the 10th and last Sunday of each month) when the fee for adults is 12 soles and five soles for school children. 
Children under seven years old are admitted free of charge. 
The cost of the entrance to the MonasteryMonastery does not include the tour guide service. For this, you can get one of the professional guides that the place has. The site offers English, Spanish, French, German, Italian, Portuguese, and even Japanese guides.
Tickets are sold online and by reservation. Payments can be made with Visa, Mastercard, American Express, Dinners Club, Unionpay, and Maestro cards. 
What is the best vehicle to visit Santa Catalina Monastery?
Visiting the stunning Santa Catalina Monastery in Arequipa couldn't be easier. Taking a cab from the airport is convenient and cost-effective, with fares starting at just US$5 per journey. Alternatively, you could opt for public transportation on one of many buses provided by Arequipa Bus – costing only 8 Peruvian soles (US$2). If your hotel or accommodation is nearby, why not take a leisurely stroll to see this magnificent attraction up close?
How many hours should a person spend at Santa Catalina Monastery?
To fully appreciate the beauty of Santa Catalina Monastery, plan to spend two or three hours exploring it. From its ancient convent walls and lively plaza de Armas to hidden courtyards filled with vibrant colors and the scent of blooming flowers, you'll be sure not to miss any details by taking a long journey into this historical sanctuary.
Which is the closest city to the Monastery of Santa Catalina?
The Santa Catalina Monastery is located in the historic center of Arequipa, making it easily accessible from any point in the city.
How is the past of the Monastery of Santa Catalina presented to visitors?
A visit to the Monastery of Santa Catalina gives the visitor a deep understanding of what life was like in this religious space hundreds of years ago. If you like history or architecture, visit the Monastery of Santa Catalina. If you want to discover more of the city uniquely,
Known for being one of Arequipa's most important cultural attractions, the Santa Catalina Monastery is a must-see if you visit the White City. The enviable historical richness that houses inside and the remarkable colonial architecture that embellishes its structures invite you to get lost in all its corners, becoming a journey through time that is recorded forever. 
How is the preservation of the Monastery of Santa Catalina?
Santa Catalina was included in the 2008 World Monuments Watch to preserve and care for the Monastery. Promociones Turísticas del Sur S.A., a private group that manages the site for the nuns, partnered with WMF to restore the mural paintings in the lower choir of the Church, an area in need of immediate attention.
The project also included conserving several rooms that had been damaged in an earlier earthquake. Several sections of the wall that were about to collapse were partially dismantled; each piece of stone was identified and rebuilt using traditional techniques to ensure its stability. The roof was restored to its original barrel vault configuration using wooden trusses and stone voussoirs.
The restored spaces were adapted for multi-purpose cultural programs for the community, the first was an exhibition of panels describing the convent's conservation and rehabilitation work.
Is the Monastery of Santa Catalina a UNESCO World Heritage Site?
In its evaluation for recognition as a World Heritage Site, UNESCO considered that the Historic Center of Arequipa, of which the Santa Catalina Monastery is a part, possesses exceptional universal value and meets two criteria: it represents a masterpiece of human creative genius, and it is an outstanding example of a type of building, architectural or technological ensemble or landscape that illustrates essential stages in the history of humanity.
Arequipa's historic center, built in volcanic ashlar rock, represents an integration of European and indigenous construction techniques and characteristics, expressed in the admirable work of colonial masters and Creole and indigenous masons. This combination of influences is evident in the city's robust walls, arches and vaults, patios and open spaces, and intricate baroque facades.
The merit of Arequipa's architecture is not limited to the grandeur of its religious monuments. It is also in the profusion of dignified mansions, characteristic vernacular houses well proportioned; the center contains about 500 mansions.
The urban space penetrates the interior of the blocks through large portals and vestibules into the courtyards, where the carvings of the facades are reproduced, thus accentuating spatial continuity. The doorways and windows are flanked by pillars and crowned by projecting pediments that merge with the large walls. The porches' ornamental economy harmonizes with the vaults' shape, projecting cornices, and carved corbels.
Narrow window openings allow light to enter the round arches or vaulted roof spaces. Together with the monumental ensembles, streets, and squares, the manor houses ensure the harmony and integrity of the urban landscape and give the city exceptional urban value.
The historic center of Arequipa is characterized, therefore, by its originality and presence, the respect for tradition, the influence on the region of the settlement, the privileged geography, the foundational layout, its urban scheme and its creation, its materials, constructive and decorative systems, and the rich social and cultural mix.
Criterion (i): The ornamental architecture of Arequipa's historic center represents a masterpiece of creative integration of European and indigenous characteristics crucial to the cultural expression of the entire region.
Criterion (ii): Arequipa's historical center is an outstanding example of a colonial settlement, challenged by natural conditions, indigenous influences, the process of conquest and evangelization, and the spectacular surroundings.
Integrity
The area of protection of the historic center of Arequipa comprises 166.52 hectares and includes all the figurative elements and physical characteristics of the urban and architectural complex and its historical evolution that express the Outstanding Universal Value of the site. The foundational urban layout of the city, its monumental urban environments, and the religious and civil buildings constructed between the 17th and 20th centuries A.D. make up its character as a historic urban complex.
Likewise, the construction techniques – the use of volcanic stone and the engraving of the facades, among others – contribute to preserving the original and intact examples that have survived since the 17th century. Arequipa's historic center is integrated into the natural and cultural environment of the Chili River valley, crowned by three snow-capped volcanoes and the pre-Hispanic agricultural terraces of the countryside.
These attributes are preserved today and maintain a close harmonic relationship without significant alterations. 
The planning of the foundational urban layout of the historic center of Arequipa maintains its originality and a large part of the urban fabric that expresses the mestizo character and historical identity of the city and adds an outstanding urban value to the complex.
The construction techniques with volcanic stone and the fine sculptural work of porticoes and other structures carved in ashlar are also testimony to the technological development and local mixed baroque art preserving authentic and unaltered examples that have survived since the seventeenth century. Churches maintain their religious use; however, many manor houses have lost their original use as residences and have been restored and adapted for administrative and cultural activities.  
Is the Monastery of Santa Catalina in danger?
Arequipa's historic center is vulnerable to natural phenomena such as seismic activity, low-intensity volcanic activity, and El Niño-Southern Oscillation (ENSO). In addition, as a result of multiple socioeconomic pressures, such as commerce, traffic, and the lack of efficient maintenance, urban planning, and control policy, the city center suffers from overcrowding, overcrowding of its monuments and traffic jams, high pollution due to toxic gas emissions resulting from the poor condition of its vehicle fleet, formal and informal commerce, demolition of buildings to be used as parking lots, and loss of the city's agricultural zone.
All these factors cause risks to the historic fabric, which has already led to the loss of many buildings of historical value and must be addressed to maintain their integrity.
Environmental contamination has accelerated the deterioration of the structure and the paintings and sculptures of the Santa Catalina Monastery. Because ashlar is a porous stone, air pollution and salts have caused cracks in the roof, depletion of the mortar between the joints of the walls, and displacement of the stones. Santa Catalina is located in a volcanic area with high seismic activity. 
Despite the innumerable natural disasters that the historic center of Arequipa has suffered, most of the buildings have been repaired many times and rebuilt to withstand the geographical environment without losing their typology or their ornamental characteristics, maintaining exceptionally coherent and homogeneous attributes as a result of the integration of these factors.
This has been achieved thanks to the integration of many works, the continuation of building traditions (know-how), the use of experienced local labor, and the knowledge of local construction materials, such as ashlar, as well as the various documentary sources and graphics records.
Has the Monastery of Santa Catalina collapsed?
The Santa Catalina convent is an essential example of viceregal architecture. Separate areas of the structure were built during different centuries, making the complex a showcase of local and colonial styles. The convent remains a functioning religious complex as well as a tourist site. Repairs to the structure have improved the living conditions of the nuns, as well as improved the management of community members and tourists.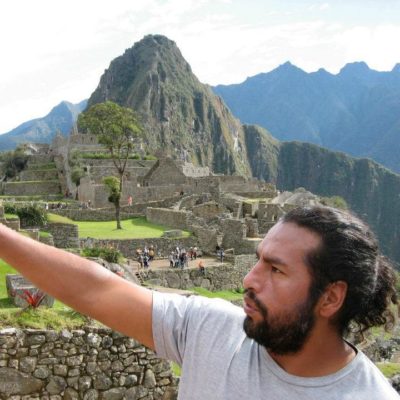 Miguel is a professional tour guide from Cusco, Peru, with almost 20 years of experience leading tours and a deep knowledge of Peru's cultural and ecological diversity. He is also an advocate of ecotourism and cultural sensitivity and has lectured on these topics in the US and Europe. He co-founded Evolution Treks Peru, a worker-owned travel company based in Cusco.