Is Peru Cheap? Your Ultimate Guide to Budget Travel in Peru
Is Peru cheap? That's a question many travelers find themselves asking.
The response to the query of whether Peru is affordable varies, depending on your preferences and what you prioritize during your travels.
Is Peru cheap if you're backpacking and staying in hostels? Absolutely!
If you prefer luxury accommodations and fine dining experiences, it might not be as affordable as other destinations. However, with a bit of savvy and creativity, you can still have an amazing time in this South American paradise without breaking the bank.
Budget Travel in Peru
Exploring the wonders of Peru doesn't have to break the bank. With a little forethought and wise decision, you can take in the magnificence of Peru without blowing your budget.
Utilizing Colectivos for Transportation
A significant part of any travel budget goes towards transportation. In Peru, colectivos – local shared taxis – are economical for getting around within cities or between nearby towns.
The fares for these rides are considerably lower than those charged by regular taxis or car rentals, making them ideal if you're looking to save money.
Note, though they may not be as comfortable as private transport options, their affordability makes up for it.
Finding Affordable Accommodation Options
You don't need deep pockets to find good accommodation in Peru. Many hostels and guesthouses across the country provide decent stays at reasonable prices.
If you want a more homely vibe, consider staying in locally run B&Bs which usually include authentic Peruvian breakfasts. Booking.com and HostelWorld are great platforms for finding such accommodations based on preferences and budgets.
Eating Local to Save Money
Dining out every day can quickly add up when traveling; however, there's no reason to fret if you're visiting Peru.
This South American gem is home to plenty of markets where fresh produce is sold at very low costs, perfect for cooking facilities during your stay. Here's more info about this great deal.
If cooking isn't an option, then try the 'menu del dia' (menu of the day) available at most restaurants, offering full meals including appetizers, main course, and dessert for under $5 USD.
These strategies will help ensure that even those on tight budgets can fully enjoy their time exploring everything this amazing destination has to offer. Hence, it is important to consider individual preferences when researching the destination. Hence, always do thorough research before embarking on your journey
Key Takeaway: 
Traveling to Peru on a budget? No worries. Use colectivos for cheap transport, find affordable digs through online platforms, and eat local or cook with fresh market produce. Remember, thorough research is key to making your dollar stretch in this South American gem.
Upgraded Lodging Options Worth the Splurge
Traveling on a budget in Peru? It's possible. But sometimes, it's worth paying extra for an unforgettable experience. Let's explore two luxury accommodations that are definitely worth considering: Inkaterra Machu Picchu Pueblo, and Skylodge Adventure Suites.
Experiencing Luxury at Inkaterra Machu Picchu Pueblo
In the cloud forest below the ancient ruins of Machu Picchu lies a gem – The Inkaterra Machu Picchu Pueblo Hotel.
The casitas here blend seamlessly with their surroundings thanks to local materials used in construction while offering modern comforts like heated floors and alpaca blankets.
Beyond providing comfortable lodgings, this eco-luxury lodge offers bird watching tours, orchid walks, tea plantation visits, and other activities within its premises. Yes indeed.
Adventurous Stay at Skylodge Adventure Suites
If you're looking for something unique during your trip to Peru, consider booking a night at Skylodge Adventure Suites – transparent capsules hanging off cliffs above the Sacred Valley.
You get breathtaking panoramic views by day…

A star-filled sky view by night…
To reach these suites, guests must either hike up via the ferrata route or zip-line down, which adds another layer of adventure before settling in for the evening.
Surely not recommended if you suffer from vertigo, but otherwise, spending a night here will make your stay memorable, making it well worth investing those extra dollars, especially when meals, transportation, equipment use, guide service, insurance, etc., are included within the package price, thereby ensuring a value-for-money deal overall.
Must Visit Destinations in Peru
The beauty of Peru isn't just limited to its famous landmarks. Visiting Alpaca and Amazonas Explorer is a must for anyone wishing to experience Peru's culture fully. Two such must-visit locations are the Alpaca farms and Amazonas Explorer.
Exploring the Natural Beauty of the Alpaca Farms
For thousands of years, alpacas have been a significant part of Peruvian culture and inhabit the Andean highlands. Visiting an alpaca farm is about getting up close with these charming creatures and understanding their role within local communities.
This makes your visit educational and impactful, as it directly supports rural communities. Peru Travel's guide on alpacas provides fascinating insights into this aspect.
Besides farms, there are several natural reserves where you can observe wild alpacas grazing against stunning backdrops like Sillustani, known for its pre-Incan burial ground or 'chullpas', and Pampamarca, home to one of South America's largest vicuna populations.
Embarking on an Adventure with Amazonas Explorer
If adventure tourism appeals to you, then embarking on a journey with Amazonas Explorer – a reputable tour operator specializing in off-the-beaten-path adventures throughout Peru – is highly recommended by seasoned travelers.
Ranging from rafting down untamed rivers, trekking across rugged landscapes, visiting remote indigenous tribes, or exploring hidden archaeological sites like Choquequirao, often referred to as Machu Picchu's sister city due to its similar architectural style, yet much less crowded, making them a perfect choice for those seeking to avoid tourist crowds without missing out on experiencing ancient Incan civilization first-hand.
Efficient Transport Routes within Peru
The journey from Cusco to Aguas Calientes by train is not just a mode of transportation but an experience. The route offers a visual feast of the country's awe-inspiring landscapes.
The Scenic Route from Cusco to Aguas Calientes by Train
This four-hour ride, operated by PeruRail and Inca Rail, takes you through valleys adorned with lush greenery and mountainsides boasting unparalleled beauty. This isn't your average commute; it's an adventure offering unique photo opportunities at every turn.
Ticket prices vary based on factors such as booking season or class type chosen – standard or premium services, including meals and additional onboard amenities like panoramic windows for enhanced viewing pleasure. While it may seem costly compared to other modes of transport in Peru, travelers unanimously agree: It's worth every penny.
If immersive experiences are what you seek during your Peruvian exploration, then this train ride should be high on your list.
Tips For Taking The Train From Cusco To Aguas Calientes
To ensure a smooth rail adventure, there are a few tips:
Purchase Tickets In Advance:

Avoid last-minute hassles, especially during peak tourist seasons.

Dress Comfortably:

You'll sit for several hours, so dress appropriately.

Carry Snacks & Water:

Food services are available onboard at extra costs; however, having some snacks handy never hurts.
A Final Note On Efficient Transportation Within Peru
Beyond trains, numerous options exist when traveling across different regions within Peru, such as buses, taxis, colectivos (shared taxis), etc. Each has its pros & cons; hence, the choice depends largely upon personal preferences, budget constraints, and specific needs during travel. However, one thing remains constant regardless.
Key Takeaway: Traveling in Peru isn't just about getting from point A to B, it's an adventure. The train ride from Cusco to Aguas Calientes is a scenic journey worth every penny. Consider options like buses and taxis based on your budget and preferences for efficient travel within the country.
FAQs in Relation to Is Peru Cheap
Is Peru a cheap country to live in?
Compared to many Western countries, living costs in Peru are relatively low. However, it depends on your lifestyle and the city you choose.
Is Peru budget-friendly?
Yes, for travelers especially. Affordable accommodation, inexpensive local cuisine, and public transportation make Peru a budget-friendly destination.
Is food cheap in Peru?
Absolutely. Street food and local markets offer delicious meals at very affordable prices compared to restaurants targeting tourists.
How much money do you need per day in Peru?
An average of $30-$50 per day should cover basic expenses like accommodation, meals, and transport within cities.
Is the Inca Trail cheap?
The Inca Trail is not a cheap adventure. The average cost of an Inca Trail tour in 2023 was 700 USD for a basic tour with a not so good company. The normal value of an inca trail tour is 800 and above.
Conclusion
Peru, a land of rich culture and stunning landscapes, can be as affordable or luxurious as you want it to be.
Budget travelers will find Peru cheap with local transportation like colectivos and budget-friendly accommodations.
For those looking for an upgrade, high-end lodging options offer unique experiences worth their price tag.
The country has must-visit destinations like Alpaca and Amazonas Explorer that immerse visitors in Peruvian culture.
An efficient transport route within Peru is the direct train from Cusco to Aguas Calientes, which offers breathtaking scenic views.
Organized tours might seem expensive upfront but often include several services that could cost more if booked separately, making them a cost-effective option for many travelers.
Check out our ultimate guide on traveling through this South American gem! No matter your budget, our advice will help you have an unforgettable journey without spending too much.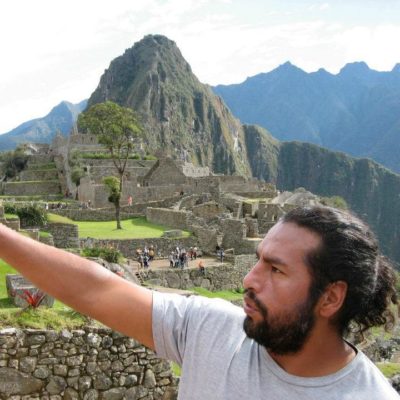 Miguel is a professional tour guide from Cusco, Peru, with almost 20 years of experience leading tours and a deep knowledge of Peru's cultural and ecological diversity. He is also an advocate of ecotourism and cultural sensitivity and has lectured on these topics in the US and Europe. He co-founded Evolution Treks Peru, a worker-owned travel company based in Cusco.